education
Get flash to fully experience Pearltrees
Since March, US customs have held up several pounds of the bright orange mimolette after the Food and Drug Administration said the cheese contained microscopic mites. The mites are used in the production of mimolette and contribute to its distinctive gray crust. Around 40 people met in New York City's Greenwich Village on Saturday to protest against the ban but also to educate New Yorker's on the beloved orange cheese. "We had eight cheese wheels at three kilos each, so we decided to offer them to the public and do a little education at the same time," Benoît de Vitton, US representative of the Isigny Sainte Mère cooperative, told the AFP news agency.
Strengthening public understanding and appreciation of science is a key NIGMS goal. As part of its efforts, the Institute publishes free science education materials on a range of topics. We encourage you to consider the environment and use our materials in their electronic forms . If you require printed versions, you may order a single copy of most publications. If you are an educator, you may order larger quantities.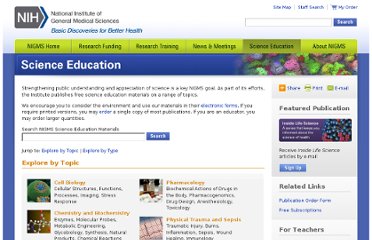 Enseigner avec et en numérique
The third annual installment of my virology course at Columbia University, Biology W3310, has begun. This course, which I taught for the first time in 2009, is intended for advanced undergraduates and will be taught at the Morningside Campus. Until I started this course, no instruction in virology had been offered at the Morningside Heights campus of Columbia University since the late 1980s. This is a serious omission for a first-class University. Sending graduates into the world without even a fundamental understanding of viruses and viral disease is inexcusable.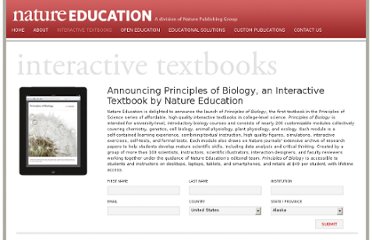 Nature Education is delighted to announce the launch of Principles of Biology , the first textbook in the Principles of Science series of affordable, high quality interactive textbooks in college-level science. Principles of Biology is intended for university-level, introductory biology courses and consists of nearly 200 customizable modules collectively covering chemistry, genetics, cell biology, animal physiology, plant physiology, and ecology. Each module is a self-contained learning experience, combining textual instruction, high quality figures, simulations, interactive exercises, self-tests, and formal tests. Each module also draws on Nature journals' extensive archive of research papers to help students develop mature scientific skills, including data analysis and critical thinking.
If you are a parent of a young child, how would you feel if one day your child develops a nasty rash on their skin, scarring, and even blindness after accidentally coming into contact with a dangerous plant while playing outdoors? Well, recently in the news, warnings have gone out on the Northeast, in states such as New York, for a plant commonly known as Giant Hogweed. ( Heracleum mantegazzianum ) I am sure all of you are familiar with poison ivy and the unpleasant, itchy, rashes it leaves on you skin, but Giant Hogweed, in my opinion, is ten times as worse and severe. Fun Fact: The Giant Hogweed got its scientific name from one of the world's most well known Greek hero, Hercules. Both Hercules and the Giant Hogweed are strong and immense. So, what is Giant Hogweed?
Titre : Emergence d'un nouveau monde Titre de série : Image et science : émergence Date de production : 2006 Durée : 00:53:00 Support de diffusion : DVD, DV Cam Version : Français Mode de diffusion : Prêt, Vente (usage privé), Vente (usage institutionnel) Auteur : MIROUZE Jean-Pierre Réalisateur : MIROUZE Jean-Pierre Coproducteur : CNRS Images Participation : Min. Recherche ; Inria ; France 5 Producteur délégué : Flight Movie Intervenant : WOLTON Dominique ; BESNIER Jean-Michel ; VERCHER Jean-Louis ; BASTIN Julien ; NIGAY Laurence ; BERARD François ; KEMENY Andras ; JEZEQUEL Jean-Marc ; SIMPLOT-RYL David ; CHABANON Christian ; HERLIN Thomas ; WIART Joe ; LANTERI Stéphane ; BENSAUDE-VINCENT Bernadette ; JOACHIM Christian ; DUJARDIN Gérald ; MAYNE Andrew ; GRANGIER Philippe Discipline : Physique, Sciences pour l'ingénieur Numéro de notice : 1810 lien URL : http://videotheque.cnrs.fr/doc=1810
www.oecd.org/edu/eag2011 New material | Data | How to obtain this publication EAG2011 Navigator by country | Additional material | News releases Blogs | Country notes | Presentations | Webcast | Websites | Twitter feed Education Indicators in Focus - No: 5 How is the global talent pool changing? ISBN: 9789264114203 Publication: 13/9/2011
…education for all. A simple concept; and for 25-year-old Javier Elías, a winning one: Elías was awarded first place in the OECD's 50 th Anniversary Video Competition for his two-minute part-animation, part live-action voyage around the world and back to his native Peru that concludes that progress is when "all children have the education they deserve." It's a message that clearly comes from the heart.