Blogs Archi [EN]
L'archi.blog du Cazals
Blographic - Blog LeMonde.fr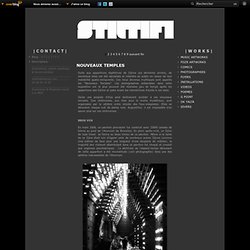 S T I L T I F I
Suite aux apparitions répétitives de Djinns ces dernières années, de nombreux sites ont été sacralisés et interdits au public en raison de leur instabilité spatio-temporelle. Ces lieux devenus mythiques sont appelés les "Nouveaux Temples". Les photographies présentées dans cette exposition ont le plus souvent été réalisées peu de temps après les apparitions des Djinns et juste avant les interdictions d'accès à ces sites. Seule une poignée d'élus peut dorénavant accéder à ces nouveaux temples. Des cérémonies, aux rites pour le moins mystérieux, sont organisées par le célèbre ordre céleste des faux-plaquistes. Elles se déroulent chaque nuit de pleine lune.
Architecture
Le Grand poète des images
A propos aMush est un magazine en ligne pour l'architecture contemporaine au Maroc. Notre démarche est de promouvoir, dans notre pays, les architectures d'hier et d'aujourd'hui qui répondent de cette conformité avec leur époque, encourager et développer des initiatives de qualité dans le champ de l'architecture, l'urbanisme et le design au Maroc. Nous admirons ceux qui prennent le risque d'être en décalage afin de nous proposer les alternatives qui feront l'histoire de demain.
Maroc aMush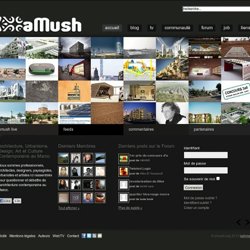 Free Pages Personnelles: Erreur 503 - Service indisponible
bump architectes
GRIBOUILLE
ArchiNow
Archiact Alexandre Pachiaudi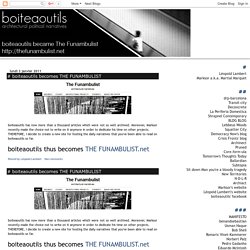 boiteaoutils
The fifth studio Francois Roche has been tutoring at Columbia University since 2006 recently presented its last projects. One of them drove an interesting conversation between the jury and its authors, Brian Buckner & Loukia Tsafoulia. For this year's studio, Francois Roche was assisted by Ezio Blasetti and Dave Pigram
Dans une tribune adressée au Moniteur, Cristina Conrad (architecte, urbaniste) et Denis Dessus (architecte et expert en marchés publics), dénoncent le recours massif aux partenariats public-privé, un outil « désastreux » pour les finances publiques, utilisé au profit de quelques-uns, au détriment de l'intérêt général et de l'architecture. Le contrat de partenariat public privé (PPP) permet de confier en un seul marché, conception, construction, entretien, maintenance et gestion d'un équipement public. Celui-ci est financé par le groupement privé attributaire du contrat, et payé par l'Etat ou la collectivité sous forme de loyer (sorte de « leasing ») sur des durées de 15, 30, voire 40 ans. Les règles de la comptabilité publique ont été adaptées pour que la majeure partie du montant du marché, n'apparaisse pas en investissement, mais en fonctionnement, masquant ainsi à l'Europe, la réalité de la dette contractée.
unnamed pearl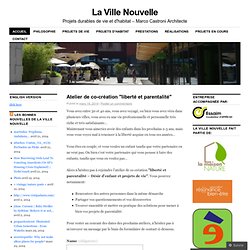 Dans la réalisation d'un bâtiment, il faut tenir compte de plusieurs facteurs: localisation, performance énergétique, efficacité dans la gestion des espaces… la liste des éléments à prendre en compte est longue, et on risque souvent d'en oublier quelques-uns. Pour aider les architectes et les maîtres d'ouvrages dans la réalisation d'un projet, il existe néanmoins toute une série d'outils que permettent d'évaluer un projet et quantifier ses performances. Sel (http://www.sel.admin.ch) est le système d'évaluation des logements d'utilité publique mis au point par la Confédération.
La Ville Nouvelle
ArchDaily | Broadcasting Architecture Worldwide
This article by Marc Kristal from Metropolis Magazine, originally titled "Digital Details," looks at the work of NRI, a New York company that is leading the way when it comes to 3D Printing (or rather, additive manufacturing) – finding that there is a craft in these machine-produced models after all. First things first: The term "3-D printing" is a misnomer according to Arthur Young-Spivey, the digital fabrication specialist at NRI—a 116-year-old, New York–headquartered supplier of reprographic services to architects and their tradespeople. "The correct term is 'additive manufacturing,'" he explains.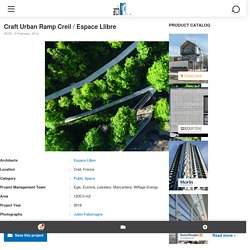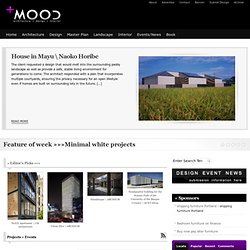 architecture + design + interior | +MOOD
Spa in Mallorca \ A2arquitectos In 1967, a small hotel, Hotel Castell dels Hams, was established on the island of Majorca amid the Mediterranean vegetation. Over time, and through subtle improvements and extensions, it has become one of the most distinctive hotels on the eastern part of the island. The last of the alterations, meant to celebrate the Mediterranean light […]
Some aspects of #occupy that stand out for their implications about the rough edges and overlaps in political control, spatial practice, spatial design, and spatial intervention: 1) Occupy Baltimore Mic Checks Karl Rove. 10 minutes into a speech at Johns Hopkins University on November 15th, protestors from Occupy Baltimore, who had mingled with the talk's audience, started up the People's Mic call-and-response protocol (which always begins with the phrase "Mic Check") to deliver a message: "Mic check. 'Mic check.' Karl Rove.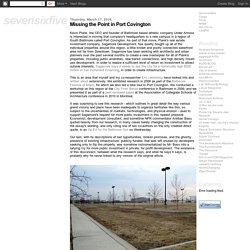 sevensixfive
A Daily Dose of Architecture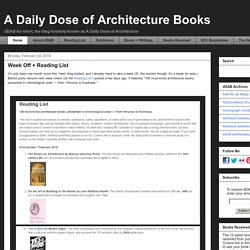 A week ago I attended a panel discussion at the Syracuse University Fisher Center in New York City. The evening was billed as a book launch for Matthew Stadler's Deventer, one of my favorite books from last year, but it was really a discussion on narrative and architecture through the guise of three books: Deventer, which documents two projects by Dutch architect Matthijs Bouw's One Architecture, Jimenez Lai's graphic novel Citizens of No Place, and Bjarke Ingels's comic monograph Yes Is More. While Mr. BIG was not in attendance, Lai and Bouw were joined by moderator Michael Speaks, Dean of the School of Architecture at Syracuse University, with Stadler participating from Europe via Skype.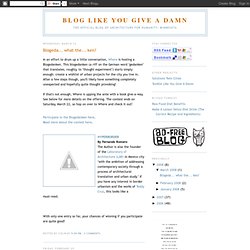 blog like you give a damn
I'm consistently amazed by what my archo & urbo blogging colleagues are coming up with and 2007 only confirmed this amazement. Over the New Year I gave BLYGAD's "Like-Minded Links" blogroll a much needed update and I just wanted feature some of the recent additions that I've really been enjoying lately. Happy reading! Airoots.org | Airoots is, to me, one of the stand out blogs of 2007. Keywords here are "adventituous roots, urban forests and villages, natural cities, lost tribes, new nomads, and everything inbetween." Infinitely fascinating, Airoots brings a unique perspective and critical eye to some of the fundamental urban issues of our time, but never without a playful sense of unreality.
"Green architecture" is one of the hot topics in the profession today. Planning and building sustainable communities is one of the three categories of the Social Art.Sustainability is much more than 'green building'. Ideas and principles of sustainability can be applied on all scales, from national and urban, to the single building.
A Practice in Architecture
unnamed pearl
The page you're looking for is unavailable at the Web address you used. Here are some strategies to use to find the information you are seeking: Use the search function (the search box is in the upper right quadrant of the page). Enter the topic of the page or the page title that you are seeking.
unnamed pearl
Empowering Architecture: architects, buildings, interior design,
anArchitecture
Activist Architect
arch rival
Archeducation
Apiusurface
archiBlog - Blog: Apeiron
arata's bullshit