Blogs Archi [EN]
Magazine d'archi. L'archi.blog du Cazals. Blographic - Blog LeMonde.fr. S T I L T I F I. Architecture. Le Grand poète des images. Maroc aMush. Free Pages Personnelles: Erreur 503 - Service indisponible. Bump architectes. GRIBOUILLE. ArchiNow. Archiact Alexandre Pachiaudi. Boiteaoutils. Untitled. Dans une tribune adressée au Moniteur, Cristina Conrad (architecte, urbaniste) et Denis Dessus (architecte et expert en marchés publics), dénoncent le recours massif aux partenariats public-privé, un outil « désastreux » pour les finances publiques, utilisé au profit de quelques-uns, au détriment de l'intérêt général et de l'architecture.
Le contrat de partenariat public privé (PPP) permet de confier en un seul marché, conception, construction, entretien, maintenance et gestion d'un équipement public. Celui-ci est financé par le groupement privé attributaire du contrat, et payé par l'Etat ou la collectivité sous forme de loyer (sorte de « leasing ») sur des durées de 15, 30, voire 40 ans. Les règles de la comptabilité publique ont été adaptées pour que la majeure partie du montant du marché, n'apparaisse pas en investissement, mais en fonctionnement, masquant ainsi à l'Europe, la réalité de la dette contractée. La Ville Nouvelle. ArchDaily | Broadcasting Architecture Worldwide. Architecture + design + interior | +MOOD. Sevensixfive. A Daily Dose of Architecture. Blog like you give a damn.
A Practice in Architecture. Untitled. Untitled. The page you're looking for is unavailable at the Web address you used.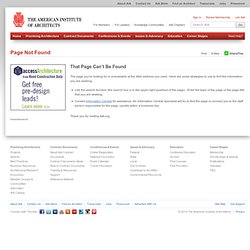 Here are some strategies to use to find the information you are seeking: Use the search function (the search box is in the upper right quadrant of the page). Enter the topic of the page or the page title that you are seeking. Empowering Architecture: architects, buildings, interior design, AnArchitecture. Activist Architect. Arch rival. Archeducation. Apiusurface. ArchiBlog - Blog: Apeiron. Arata's bullshit.
---