Linux
Linux-drivers.org - Linux Hardware Compatibility Lists & Linux Drivers. Knoppix by aleosd. Best Free Software for Linux. Linux, occasionally referred to as GNU/Linux, is an open source and free operating system predominantly known for its use in servers, but has increasingly become commonplace in desktop, notebook and netbook computers in recent years after newer and enhanced versions of Linux distributions, Ubuntu or Linux Mint for example, are developed and offered free to users.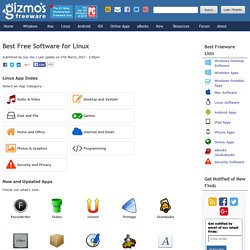 While you can get the Linux system and use it for free, you can also run on the system a wide range of free applications such as well-known and commonly-used software including Firefox web browser and the LibreOffice application suite. Among various free applications, here you might find the best free software for Linux, including those products reviewed and recommended by our editors in the various sections. HowToMD5SUM. When one has downloaded an ISO file for installing or trying Ubuntu, it is recommended to test that the file is correct and safe to use.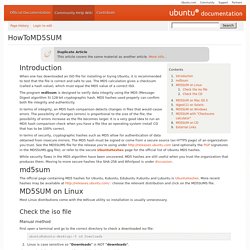 The MD5 calculation gives a checksum (called a hash value), which must equal the MD5 value of a correct ISO. The program is designed to verify data integrity using the MD5 (Message-Digest algorithm 5) 128-bit cryptographic hash. MD5 hashes used properly can confirm both file integrity and authenticity. How to Get Help With a Command from the Linux Terminal: 8 Tricks for Beginners & Pros Alike. Whether you're an inexperienced terminal user or a grizzled veteran, you won't always know the right thing to type into the Linux terminal.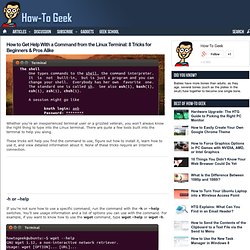 There are quite a few tools built into the terminal to help you along. These tricks will help you find the command to use, figure out how to install it, learn how to use it, and view detailed information about it. None of these tricks require an Internet connection. Turn an Old Computer into a Networked Backup, Streaming, or Torrenting Machine with Ubuntu. How about some tips on using a Rasberry Pi for a really cheap, lower power, low performance home server?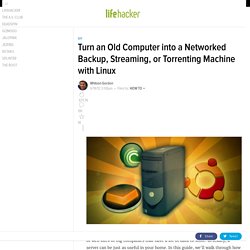 (aka, occasional backups and file storage, not a "home media center") Everyone keeps saying this, but my one question is...where do you put all the drives? The machine is cheap, but the HDD enclosure will dwarf the practicality of the machine. Unless you already have some sort of JBOD enclosure that just works with the machine (distribution dependent perhaps). Ubuntu 11.04 (Natty Narwhal), Reviewed In Depth : Introduction. Ubuntu 11.04 (Natty Narwhal) has arrived, and we have the scoop on everything you need to know about Canonical's latest Linux, along with the usual review and benchmarks.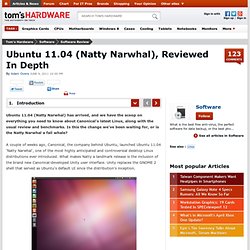 Is this the change we've been waiting for, or is the Natty Narwhal a fail whale? A couple of weeks ago, Canonical, the company behind Ubuntu, launched Ubuntu 11.04 'Natty Narwhal', one of the most highly anticipated and controversial desktop Linux distributions ever introduced. What makes Natty a landmark release is the inclusion of the brand new Canonical-developed Unity user interface. Some Ubuntu resources for beginners | Tech and life. I've already done a post on Some Linux Resources for Beginners so I thought I'd round up some great resources specifically for those starting out with Ubuntu.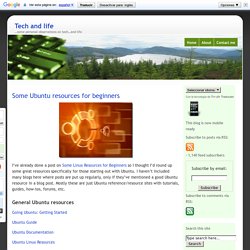 I haven't included many blogs here where posts are put up regularly, only if they've mentioned a good Ubuntu resource in a blog post. Mostly these are just Ubuntu reference/resource sites with tutorials, guides, how-tos, forums, etc. General Ubuntu resources Going Ubuntu: Getting Started. Tips and Tricks for Ubuntu after Installation [for Ubuntu 12.04] Ubuntu is a free operating system or a Linux distribution ("distro") which currently receives the second highest hits after Linux Mint at DistroWatch .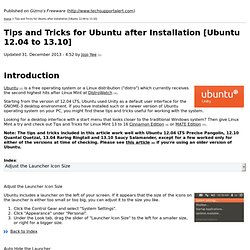 Starting from the version of 12.04 LTS, Ubuntu used Unity as a default user interface for the GNOME-3 desktop environment. If you have installed such or a newer version of Ubuntu operating system on your PC, you might find these tips and tricks useful for working with the system. Looking for a desktop interface with a start menu that looks closer to the traditional Windows system? The Ubuntu guide for displaced Windows users. With Windows 8 pushing a "touch-first" desktop interface—Microsoft's words, not ours—and with Valve's Steam on Linux beginning to bring much-needed games and popular attention to the oft-overlooked operating system, there's never been a better time to take Linux out for a test drive.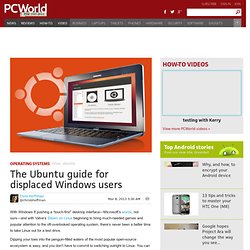 Dipping your toes into the penguin-filled waters of the most popular open-source ecosystem is easy, and you don't have to commit to switching outright to Linux. You can install it alongside your current Windows system, or even try it without installing anything at all. Ubuntu is the most popular Linux distribution for desktop and laptop Linux users, so we'll focus on Ubuntu throughout this guide. Jorge's stompbox • The Power User's Guide to Unity. 12 Things I did After Installing New Ubuntu 11.04 "Natty Narwhal" Ubuntu 11.04 Natty Narwhal released, reviewed.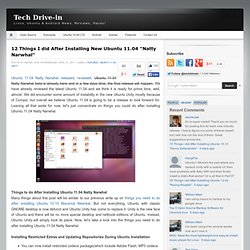 Ubuntu 11.04 Natty Narwhal beta is already here and in a few days time, the final release will happen. We have already reviewed the latest Ubuntu 11.04 and we think it is ready for prime time, well, almost. We did encounter some amount of instability in the new Ubuntu Unity mostly because of Compiz, but overall we believe Ubuntu 11.04 is going to be a release to look forward for. Leaving all that aside for now, let's just concentrate on things you could do after installing Ubuntu 11.04 Natty Narwhal. My Effort at Writing Help for Unity.
I told the kind folks in #ubuntu-doc that I'd give it go, writing up some documentation for Unity.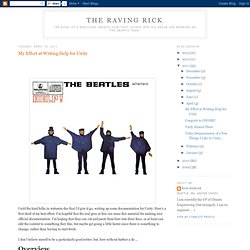 Here's a first draft of my best effort. I'm hopeful that the real pros at this can mine this material for making nice official documentation. I'm hoping that thay can cut and paste from here into their docs, or at least can edit the content to something they like, but maybe get going a little faster since there is something to change, rather than having to start fresh. Linux.
Unity (Ubuntu 11.04) 17 Essential Linux Resources That You Shouldn't Miss. Technology, Software, Tips and Tricks, Downloads and a bit of fun A New Morning 17 Essential Linux Resources That You Shouldn't Miss by Umar on May 25th, 2009 · 11 Comments. Beginners. The Ultimate Linux Newbie Guide | The best site to learn about choosing, using and installing Linux for beginners. Glossary. Ubuntu and other Linux distributions often use a number of terms that are unfamiliar to Windows or Mac users.
This glossary is a concise guide to this terminology for new Ubuntu users. If you quote external content, please add a suitable reference. 3D - Having three dimensions; height, width and depth. Is Linux Confusing? Here Are The Key Terms You Need To Know. An operating system that doesn't cost a dime, runs well on both old and new hardware, has a gorgeous user interface with modern effects, and offers a staggering variety of modern software – what's not to like? And yet, making your first steps into the world of Linux can often feel like a daunting experience. These days, Ubuntu and other modern Linux distributions usually install without a hitch (and without requiring any knowledge), but as you move forward using them, you will inevitably come across all sorts of terminology that isn't always clearly explained. That's why I've prepared a quick list of the most important Linux terms and definitions that you should know, each explained in the simplest possible way. They're arranged in order of priority, rather than alphabetically: I've tried to put the most common or important terms first.
Note that these are terms, rather than commands you can run in Linux. Getting Started with Linux: The Complete Guide.
---