The Titanic
Titanic: Faces of the crew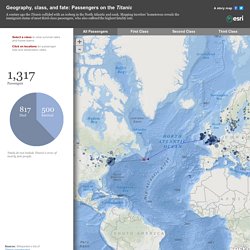 More than 2,200 people were on board the Titanic when it struck an iceberg the night of April 14, 1912. The Titanic's crew of nearly 900 is not included here. First class passengers hailed mainly from U.S. and European cities.
Geography, class, and fate: Passengers on the Titanic - A story map presented by Esri
A New Look at Nature's Role in the Titanic's Sinking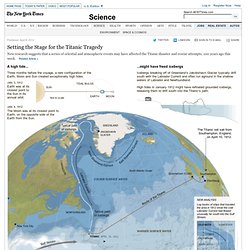 Setting the Stage for the Titanic Tragedy - Graphic
The crew of the Californian thought they
Next month is the one hundredth anniversary of the sinking of the Titanic.
The Best Sites For Learning About The Titanic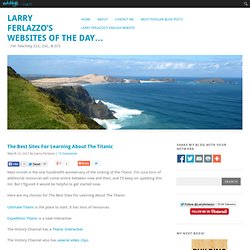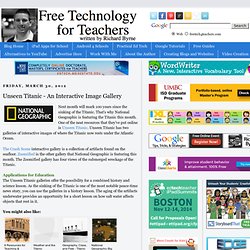 Next month will mark 100 years since the sinking of the Titanic.
Unseen Titanic - An Interactive Image Gallery
Homepage - AKO Titanic Trial
History - British History in depth: Titanic: Sinking the Myths
Grades 6-8 Overview: In this lesson, students will consider the ways in which geography is not merely an academic discipline but also a field of study with interesting and practical applications.
Lesson Plans - Sleuthing for a Lost Ship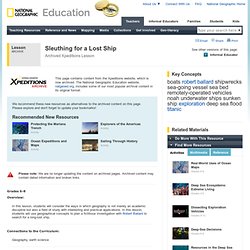 Archive - Survivors of the Titanic - Survivors from the famous shipwreck tell their stories
The Titanic: Shifting Responses to Its Sinking - Lesson Overview - Lesson Plans - For Teachers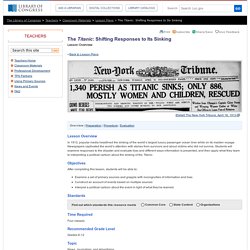 Back to Lesson Plans Lesson Overview
Titanic — History.com Interactive Maps, Timelines & Games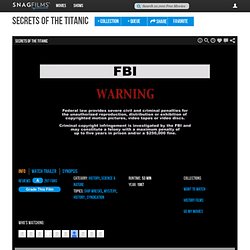 "God himself could not sink this ship.''-Titanic crewman. The unsinkable ship sank at 2:20 a.m. on April 14, 1912.
Secrets of the Titanic
Unseen Titanic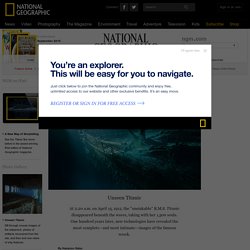 The wreck sleeps in darkness, a puzzlement of corroded steel strewn across a thousand acres of the North Atlantic seabed. Fungi feed on it. Weird colorless life-forms, unfazed by the crushing pressure, prowl its jagged ramparts.
Unseen Titanic - Interactive: The Crash Scene
Unseen Titanic - Zoomifier: Bow from above
On Board The Titanic