DIY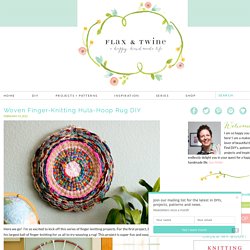 Here we go! I'm so excited to kick off this series of finger-knitting projects. For the first project, B proffered his largest ball of finger-knitting for us all to try weaving a rug! This project is super-fun and easy to do. The rug was made on a hula hoop loom, using an old t-shirt for the warp and a massively huge ball of finger knitting for the weft. I based this project on an incredible t-shirt hula hoop rug I saw on the Disney Family Fun site, where they used strips of t-shirts for the weft.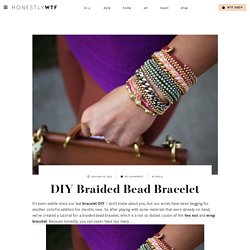 It's been awhile since our last bracelet DIY. I don't know about you, but our wrists have been begging for another colorful addition for months now. So after playing with some materials that were already on hand, we've created a tutorial for a braided bead bracelet, which is a not so distant cousin of the hex nut and wrap bracelet.
this week's diy is inspired by the twosome bracelet from anthro, the one with flat discs. it is a super simple bracelet to make and it cost me maybe 3 to 5 dollars to make total. full on diy after le-jump. supplies i used: glue, i love 527 glue & use it often. i already had this in my supply box, but i suppose krazy glue or some other type would work just fine. washers. i bought a little box from home depot. i didn't get the smallest size, which resulted in a chunkier bracelet. there are tiny washers out there if you want a daintier bracelet. waxed cotton cord. i had chocolate brown in my arsenal, but i really love bold colors too. pick whatever size you think would compliment your washers. you only need two strands to fit through the washers, if that helps. hemp, linen, or bamboo cord would work well too. oh, & scissors.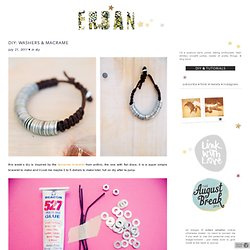 By Kate on September 13, 2011 This bracelet has been inspired by this really wonderful "Braided Hex-nut Bracelet" tutorial which I pinned on Pinterest a while back. Two things I absolutely love about this project are: 1) It's cheap as chips: I already had string in the cupboard and the brass hexnuts were 3p each from the hardware shop. 2) It's my kind of jewellery: I'm not really a girly girl IYKWIM! The bracelet I made is a bit different to the 'braided hex-nut bracelet' and uses macrame instead, which is great, because I promised some tutorials a while back and felt a bit bad that I hadn't written any yet! Full instructions after the jump!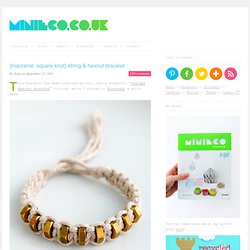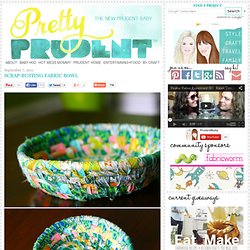 Last week my mom sent me a crafty care-package. Yes, my mother still sends me care packages, how great is that?? Included was a fabric bowl from my childhood home as inspiration and 12 yards of 1/2″ piping cord.
Scrap-busting Fabric Bowl
Our first challenge for the second year of Iron Craft was to make something with paper. I channeled my inner Dr. Russ and did a paper cut map of the city of Amsterdam. We recently had the bathrooms redone in our house. I was looking through Etsy for some art for the downstairs one and came across these amazing paper cut maps by Lekker Haas Paper.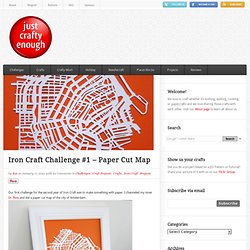 Diy posts