Innovation
.James Gardner - BankerVision. Innovation and the Future Proof Bank: A Practical Guide to Doing. Innovation, the conversion of the new to business as usual, is a very special business process.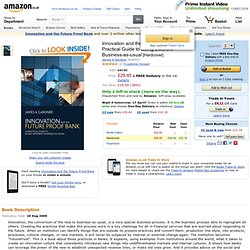 It is the business process able to reprogram all others. Creating the practices that make this process work is a key challenge for all in financial services that are worried about responding to the future. When an institution can identify things that are outside its present practices and convert them, production line style, into products, processes, cultural changes, or new markets, it will never be outpaced by internal or external change again. The institution becomes "FutureProof". This is a book about those practices in banks. The Better Banking Blog. Customer Experience Matters. > Rob Findlay - The Bank Channel. NetBanker. Digital and channel-based marketing information and inspiration. The Bankwatch.
.stevehopkins
The Financial Brand. The Financial Services Club's Blog. Visible Banking: .maverickwoman. Le groupe Casino part en guerre contre le monopole de Nespresso. Australian Banking and Finance » Gerd Schenkel exits UBank.
---