Innovation
.Rexster & Deloitte Digital
Back in May last year, I complained about HSBC and its apparent lack of a mobile strategy. My complaints were purely selfish, because I wanted to be able to bank on my iPhone, and couldn't find a way to do it. As an HSBC customer, I was jealous that other banks were offering something I couldn't use.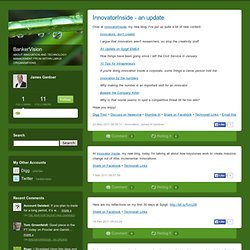 .James Gardner - BankerVision
Innovation and the Future Proof Bank: A Practical Guide to Doing
Innovation, the conversion of the new to business as usual, is a very special business process. It is the business process able to reprogram all others. Creating the practices that make this process work is a key challenge for all in financial services that are worried about responding to the future. When an institution can identify things that are outside its present practices and convert them, production line style, into products, processes, cultural changes, or new markets, it will never be outpaced by internal or external change again. The institution becomes "FutureProof". This is a book about those practices in banks.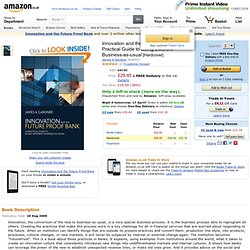 The Better Banking Blog
> Rob Findlay - The Bank Channel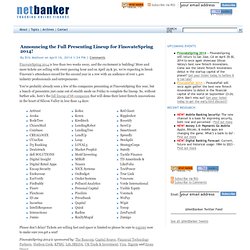 All right digital banking fans (note 1), it's that time of year again. Our annual look back at the previous year along with a fearless forecast for the rest of the decade and beyond. The report, Digital Banking Forecast: 2014 to 2023, includes our take on future U.S. household penetration levels of online banking, mobile banking and billpay. While online banking has been relatively flat, with low-single-digit growth, mobile has exploded, expanding 10-fold in the past 5 years and now reaching about one-third of U.S. households.
NetBanker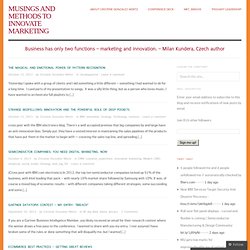 Yesterday I spoke with a group of clients and I did something a little different – something I had wanted to do for a long time. I cued parts of my presentation to songs. It was a silly little thing, but as a person who loves music, I have wanted to orchestrate full playlists to […] cross post with the IBM electronics blog There's a well accepted premise that big companies by and large have an anti-innovation bias.
Digital and channel-based marketing information and inspiration
The Bankwatch
i Rate This I have been thinking about 2014 and the obligatory new year post.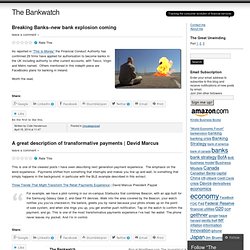 The Financial Brand
The Financial Services Club's Blog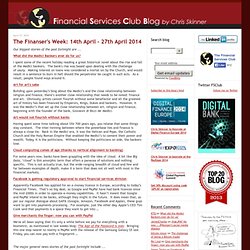 A week before Zopa luancheed in Britain in 2005 one of the co-founders, the now late and much missed Richard Duvall, presented the concept to the Financial Services Club. No-one really understood it at the time although now, it makes great sense. An eBay for money. Those who have money get higher interest whilst those who need money pay lower interest, and Zopa manages the risk. Makes so much sense and, during a period when interest rates hit rock bottom and credit dried up, higher returns on savings and lower costs for borrowing has made the disruptive start up a hit. Just look at the hockey stick effect as the credit crisis hit Britain in Q4 2008 and you can see what I mean.
Visible Banking:
Le groupe Casino part en guerre contre le monopole de Nespresso
Australian Banking and Finance » Gerd Schenkel exits UBank