BYOD
CMS rolls out new technology plan. Teachers huddled around iPads last week, hoping that by the time school starts Aug. 27, they'll be half as good at making digital movies as the Washam Elementary fifth-graders whose video report on Lewis and Clark they watched.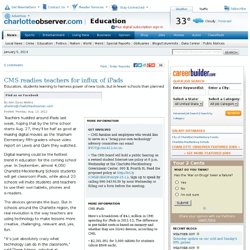 Digital learning could be the hottest trend in education for the coming school year. In September, almost 4,000 Charlotte-Mecklenburg Schools students will get classroom iPads, while about 20 schools will invite students and teachers to use their own tablets, phones and e-readers. Looking to create a social media or BYOD policy? Look no further. BYOD Pilot Readying for Takeoff | Fusion Finds. We are preparing to pilot a BYOD Program here at our High School.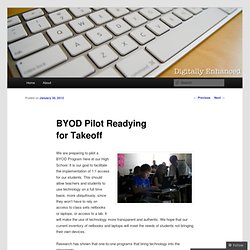 It is our goal to facilitate the implementation of 1:1 access for our students. This should allow teachers and students to use technology on a full time basis, more ubiquitously, since they won't have to rely on access to class sets netbooks or laptops, or access to a lab. It will make the use of technology more transparent and authentic. We hope that our current inventory of netbooks and laptops will meet the needs of students not bringing their own devices. Research has shown that one-to-one programs that bring technology into the classroom: Building an Effective School BYOD Plan. They're Coming from the Cloud and They're There to Help: The New Digital. Hall Davidson, Distinguished Lecturer and an amazing tech guru began his presentation by defining terms because they define us.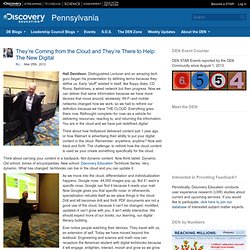 Early "stuff" existed in itself, like floppy disks, CD Roms, flashdrives, a wired network but then progress. Now we can deliver that same information because we have more devices that move around, wirelessly. Our BYOD Policy and Process. Our school is in the midst of piloting BYOD (Bring Your Own Device) with students.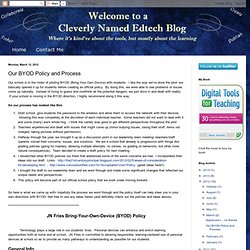 I like the way we've done the pilot- we basically opened it up for students before creating an official policy. By doing this, we were able to see problems or issues come up naturally. Instead of trying to guess and overthink all the potential dangers, we just dove in and dealt with reality. If your school is moving in the BYOD direction, I highly recommend doing it this way. One-to-One or BYOD? Districts Explain Thinking Behind Student Computing Initiatives. Edina Public Schools had concerns about the economic feasibility of one-to-one computing over the long term, so the nine-school Minnesota district is pursuing what it considers to be the next best alternative: allowing ­students to bring their own mobile devices to school.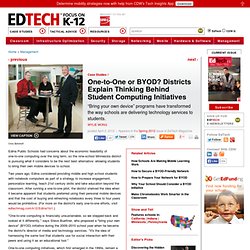 Two years ago, Edina considered providing middle and high school students with notebook computers as part of a strategy to increase engagement, personalize learning, teach 21st century skills and take education beyond the classroom. After running a one-to-one pilot, the district shelved the idea when it became apparent that students preferred using their personal mobile devices and that the cost of buying and ­refreshing ­notebooks every three to four years would be ­prohibitive. (For more on the district's early one-to-one efforts, visit ­edtechmag.com/k12/Edina1to1.) Are You Ready for BYOD? Infrastructure | In Print Are You Ready for BYOD?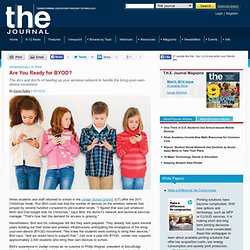 The do's and don'ts of beefing up your wireless network to handle the bring-your-own-device movement. Advice for Parents of 1:1 Programs. Anna left a comment on my blog post about 1:1 program with MS and HS students that reads: My son attends a school where MacBooks are required from grades 8-12, and students use many different assistive technology tools.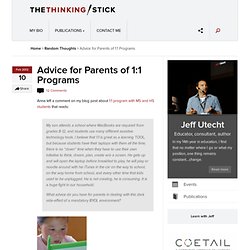 I believe that 1:1 is great as a learning TOOL, but because students have their laptops with them all the time, there is no "down" time when they have to use their own initiative to think, dream, plan, create w/o a screen. He gets up and will open the laptop before breakfast to play, he will play or noodle around with his iTunes in the car on the way to school, on the way home from school, and every other time that kids used to be unplugged.
---