Food Related
Previous Post | Home | Next Post June 15, 2012 My husband made bread for years.
DIY Proof Box: Father's Day is Almost Here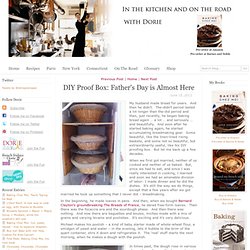 How to Fix (or Remake) Jam or Jelly That Turns Out Too Soft or Runny
This month's notes: March 2013: This winter has been very mild, so expect an early Spring. Easter Egg hunts at farms and community churchs are the first activities, followed soon by strawberry picking. Click here for strawberry facts and picking tips , and this page for easy strawberry jam making directions . See this page for hundreds of easy canning and freezing instructions/recipes , canning equipment guide ! Also make your own ice cream - see How to make ice cream and i ce cream making equipment and manuals .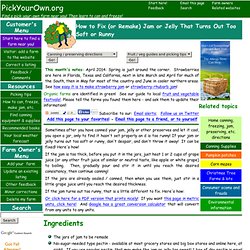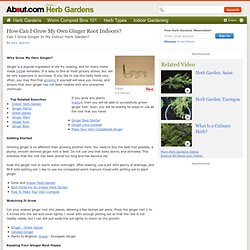 How To Grow Ginger Indoors
Why Grow My Own Ginger? Ginger is a popular ingredient in stir fry cooking, and for many home made herbal remedies. It is easy to find at most grocery stores, but can be very expensive to purchase.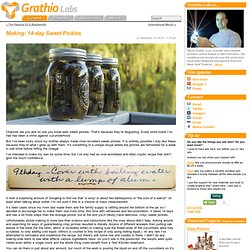 Making: 14-day Sweet Pickles
Chances are you and no one you know eats sweet pickles. That's because they're disgusting.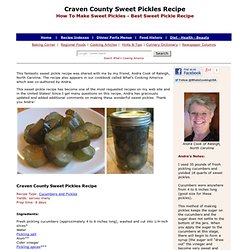 Baking Corner | Regional Foods | Cooking Articles | Hints & Tips | Culinary Dictionary | Newspaper Columns This fantastic sweet pickle recipe was shared with me by my friend, Andra Cook of Raleigh, North Carolina. The recipe also appears in our cookbook called What's Cooking America which was co-authored by Andra.
Sweet Pickles, How To Make Sweet Pickles, Craven County Sweet Pickles, Sweet Pickle Recipes
16 Ways to Use Your Whey | The Prairie Homestead
Homemade organic Greek yogurt with Colorado honey and granola I first had Greek yogurt when we visited Aunt Sara and Uncle Myron at their beautiful home on the Chesapeake Bay last summer. Each morning Aunt Sara would lay out a big breakfast buffet with fresh melons, cereals, crispy bacon, eggs, juices, pastries, breads, jams….well, you get the idea. One morning I got into the FAGE Greek Yogurt — and I was completely hooked. Greek yogurt compares to regular yogurt like home-grown tomatoes compare to February tomatoes in the grocery store – about a kazillion times better.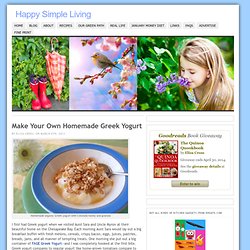 Make Your Own Homemade Greek Yogurt | Happy Simple Living
This sauce combines the sweet/tart character of apples with the sting of habanero peppers making an all-purpose hot sauce with real bite. Procedure Combine the corn starch with ½ cup of cold water and set aside. Combine all ingredients except apple sauce in a sauce pan and bring to boil. Stir in corn starch and boil until the sauce begins to thicken. Allow to cool then add apple sauce.
Apple Habanero Hot Sauce : Leeners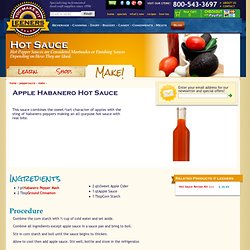 Popcorn Popper Coffee Roaster | Home Coffee Roasting