Home Design Idea Links
RENOVATE — Better Living Through Design. Homenature. Design Crisis » bathrooms. Yes, I am still alive.
I know it may seem like I fell off the face of earth, but that's only because you don't follow me on pinterest . Ahhhh, pinterest. Is there any place easier to access with my left hand whilst the right shoves a boob in the baby 's mouth at 5 am? Nay, I say there is not. Pictures of Interior Designers' Living Rooms. "My sister, an artist in San Francisco, painted the mural.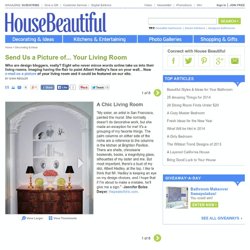 She normally doesn't do decorative work, but she made an exception for me! It's a grouping of my favorite things. The palm columns on either side of the niche are a reference to the columns in the kitchen at Brighton Pavilion. There are shells, chinoiserie bookends, books, a magnifying glass, silhouettes of my sister and me. Apartment Singel by Laura Alvarez Architecture. Amsterdam-based studio Laura Alvarez Architecture has completed the Apartment Singel project.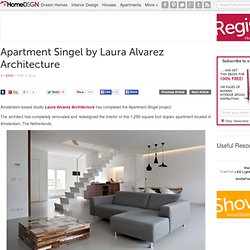 The architect has completely renovated and redesigned the interior of this 1,290 square foot duplex apartment located in Amsterdam, The Netherlands. Apartment Singel by Laura Alvarez Architecture: "Renovation and interior design of a two-floor apartment in Amsterdam. The building is catalogued as a national monument. Architect Alvarez says: The main idea was to transform the dark and claustrophobic existing apartment into a bright loft and at the same time bring into view special elements of the ancient building. Products. Dwellinggawker | focus on form. TheDesignerPad - The Designer Pad. Google. Materials and Sources. Houzz - Home Design, Decorating and Remodeling Ideas and Inspiration, Kitchen and Bathroom Design. Design Milk: Modern Design.
Decorating, DIY, Room Design Ideas - Shelterness. Dornob | Modern Home, Interior & Furniture Designs & DIY Ideas. Desire to inspire - desiretoinspire.net. Interior Design, Design News & Architecture Blog Magazine. Trend Spotting: Five Non-Paint Wall Ideas. Apartment Therapy | Saving the world, one room at a time. High Fashion Home Blog. PadStyle | Interior Design Blog | Modern Furniture | Home Decor | Interior Design. Style/SWOON.
Inhabitat | Design For a Better World!
---