Home Design Idea Links
RENOVATE — Better Living Through Design
homenature
Design Crisis » bathrooms
Yes, I am still alive. I know it may seem like I fell off the face of earth, but that's only because you don't follow me on pinterest . Ahhhh, pinterest. Is there any place easier to access with my left hand whilst the right shoves a boob in the baby 's mouth at 5 am? Nay, I say there is not.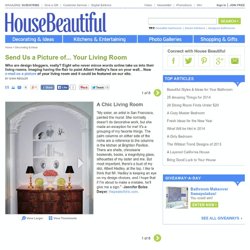 "My sister, an artist in San Francisco, painted the mural. She normally doesn't do decorative work, but she made an exception for me! It's a grouping of my favorite things. The palm columns on either side of the niche are a reference to the columns in the kitchen at Brighton Pavilion. There are shells, chinoiserie bookends, books, a magnifying glass, silhouettes of my sister and me.
Pictures of Interior Designers' Living Rooms
Amsterdam-based studio Laura Alvarez Architecture has completed the Apartment Singel project. The architect has completely renovated and redesigned the interior of this 1,290 square foot duplex apartment located in Amsterdam, The Netherlands. Apartment Singel by Laura Alvarez Architecture: "Renovation and interior design of a two-floor apartment in Amsterdam. The building is catalogued as a national monument. Architect Alvarez says: The main idea was to transform the dark and claustrophobic existing apartment into a bright loft and at the same time bring into view special elements of the ancient building.
Apartment Singel by Laura Alvarez Architecture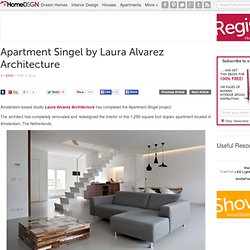 products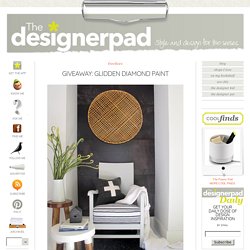 Image via Lenka and the Fawn With Christmas only hours away, I'm sure most of your are still frantically running around trying to do some last minute shopping and getting your home ready to welcome family and friends —for sure I am. Before heading upstate, and before checking out until the beginning of the year, I wanted to take a moment to wish you all a very Merry Christmas and a day filled with love, happiness and MANY surprises under the tree. Enjoy every minute of it and cherish the company of your loved ones.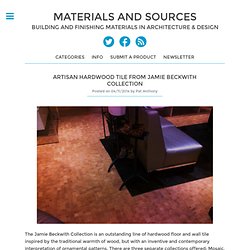 The Jamie Beckwith Collection is an outstanding line of hardwood floor and wall tile inspired by the traditional warmth of wood, but with an inventive and contemporary interpretation of ornamental patterns. There are three separate collections offered: Mosaic, Enigma and Projection. Continue reading → This very cool fixture was just designed and fabricated for LA Film Scope, a production Commercial House, by Yellow Goat Design. The meaningful design, based on the company's Planet Earth Design, was developed to showcase the LA Film Scope company, brand and identity. Continue reading →
Materials and Sources
High Fashion Home Blog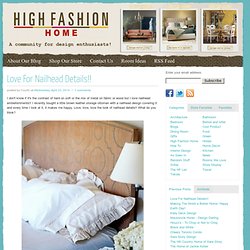 Situated in central Italy, not far from Tuscany, this farmhouse has the most beautiful surroundings but the inside of the home is quite fabulous as well. Interior designer, Eric Egan, took one year to makeover this 10,000 square foot 17th century abode. Full of antiques, modern pieces, rustic, earthy touches and statement accents, the home is has an refined, luxurious ease. And.... Did I mention the gorgeous outdoors?! Love it.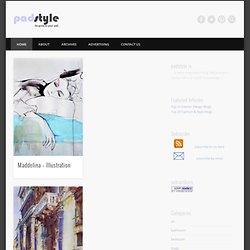 IN GENERAL, THE WINDOWS ARE NOT the first home areas that are taken into consideration when it comes to purchasing furnishings or overhauling home designs. This should not be the case because they are some of the first home components things that visitors notice. Plus, they are good sources of natural lighting. Putting the above-mentioned factors into consideration, homeowners who want to make the most of their cherished abode should make it a point to enhance their windows. One way to achieve this is through the use of insulating blinds.
style/SWOON
layered love a little friday purdy for ya… Elisa Wehle "folded, cut, drawn, woven, printed" — all good stuff. via The Jealous Curator. Happy Weekend all and don't forget to wish your mama a happy Mama's day!! (AND if you're up for it this weekend is the annual **Swiss Avenue Home Historic Tour**)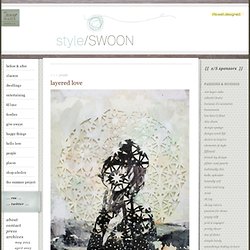 Children in school today spend less time outdoors than ever before, and face increasing rates of obesity, asthma and allergies, ADHD, and other mental and behavioral health problems. At the same time, our civilization is facing catastrophic climate change, which we as a society are totally unequipped to deal with. So how can we improve our children's health and well-being while also teaching them environmental literacy so that they are able to respond to looming ecological problems? How can classrooms be made less toxic and more environmentally friendly?