Les salons et événements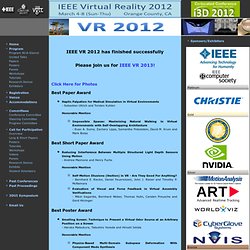 Virtual Reality 2012
Click Here for Photos Best Paper Award Haptic Palpation for Medical Simulation in Virtual Environments - Sebastian Ullrich and Torsten KuhlenHonorable Mention Impossible Spaces: Maximizing Natural Walking in Virtual Environments with Self-Overlapping Architecture - Evan A.
ISMAR.NET
Los Angeles ACM SIGGRAPH
ONE National Gay & Lesbian Archives, EZTV, LA ACM SIGGRAPH, and The City of West Hollywood presents: ONE Night: EZTV, SIGGRAPH, and Digital Art in West Hollywood — An outdoor evening of performance and large-scale digital projections. On the evening of May 31, West Hollywood Park will be transformed into an outdoor public electronic art exhibition space; An outdoor evening of performance and large-scale digital projections accompanied by live dance, and music.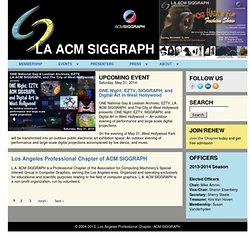 Dimension 3 - Les nouvelles dimensions de l'image
ITEC is an annual forum for representatives from the military, industry and academia to connect and share knowledge with the international training, education and simulation sectors. Presenting a unique overview of the industry's latest innovations, the event provides visitors with a platform to discuss developments in this evolving market and exchange ideas about future requirements for military training and simulation. Established for over 20 years, ITEC offers a world-class exhibition (free to attend) and conference showcasing the very latest products and services from leading organisations, as well as unique networking opportunities.
ITEC 2012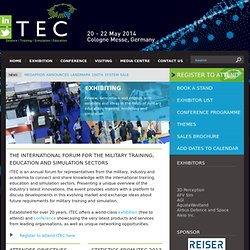 Présentation générale La côte basque a le plaisir d'accueillir les 6èmes journées de l' AFRV qui auront lieu cette année à l' ESTIA du lundi 10 octobre au mercredi 12 octobre 2011 sur la technopole Izarbel à Bidart. Les journées sont le lieu de rencontre de tous les acteurs de la Réalité Virtuelle, de la Réalité Augmentée et de l'Interaction 3D. Nous espérons tout d'abord reproduire le mode d'organisation qui aura permis de rencontrer le succès lors des éditions précédentes, de favoriser les échanges entre les acteurs et de contribuer à l'essor de la communauté.
AFRV 2011 - Journées AFRV - AFIG 2011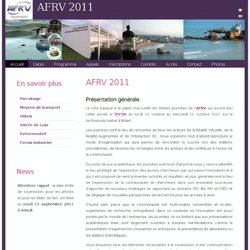 2012 : Accueil
The Industrial Program Committee of IDMME - Virtual Concept 2010 invites all researchers, and industrial experts in the domain of "Interactive and Integrated Design and Manufacturing for Innovation" to disseminate their major and recent results, studies, implementations, tools and techniques at an international level. The topics deal with 4 major themes: Life cycle management of Simulation, Product behaviour simulationOrchestration management, collaborative tools, methods and organisationKnowledge management and knowledge modelling in EngineeringVirtual reality, augmented reality Other themes of the conference are: Life cycle design and manufacturing approachesInformation technologies for product designDesign process and managementManagement in production systemsNew categories of products (MEMS, Mechatronics), corresponding simulationInteractive simulation in product design and manufacturing
IDDME Virtual Concept à Bordeaux