Clean Eating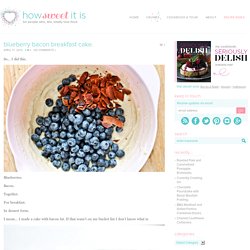 So… I did this. Blueberries. Bacon.
Blueberry Bacon Breakfast Cake
But that's not all. There are also strawberries and pineapple(s?) and brown sugar TEQUILA syrup and heaven. And brown sugar tequila syrup.
Sweet Corn Fritters with Jalapeno Whipped Cream, Strawberry Pineapple Salsa and Brown Sugar Tequila Syrup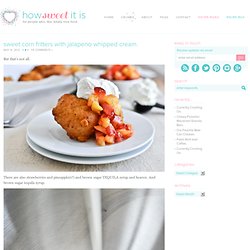 Spicy_cornbread_straight_from_the_skillet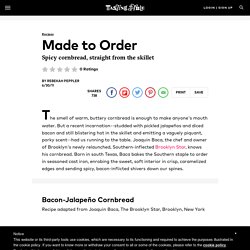 Spicy cornbread, straight from the skillet The smell of warm, buttery cornbread is enough to make anyone's mouth water. But a recent incarnation--studded with pickled jalapeños and diced bacon and still blistering hot in the skillet and emitting a vaguely piquant, porky scent--had us running to the table. Joaquin Baca, the chef and owner of Brooklyn's newly relaunched, Southern-inflected Brooklyn Star , knows his cornbread. Born in south Texas, Baca bakes the Southern staple to order in seasoned cast iron, enrobing the sweet, soft interior in crisp, caramelized edges and sending spicy, bacon-inflicted shivers down our spines. Bacon-Jalapeño Cornbread
Your Lighter Side | Make Lunch not War. Preferably with Bacon.
The changing of the seasons typically coincide with changes in my workout schedules. As the temperature dropped over the past few weeks, I started to shift my outdoor runs to the . By the time midday strikes, the temperature has usually warmed up by 7-10 degrees Celsius which is substantial when you are running outdoors! For example, when I got up this morning it was (26F) and by noon it had warmed up to (48F). As much as I love getting my workout done with in the morning, during the Fall season, I prefer to run outside after it warms up.
Cinnamon Sweet Potato Chickpea Salad