Googles News
Java Creator Joins Google; Will Android Benefit? James Gosling, the man who created the programming language, Java, has just joined Google.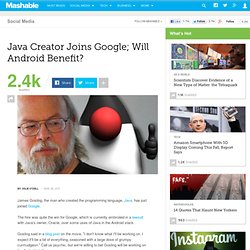 The hire was quite the win for Google, which is currently embroiled in a lawsuit with Java's owner, Oracle, over some uses of Java in the Android stack. Gosling said in a blog post on the move, "I don't know what I'll be working on. I expect it'll be a bit of everything, seasoned with a large dose of grumpy curmudgeon. " Introducing the Google APIs Explorer. Google is always looking for new ways to make it easier for developers to get started with our APIs.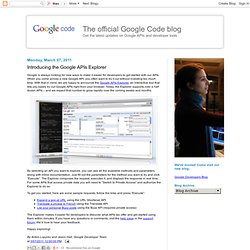 When you come across a new Google API, you often want to try it out without investing too much time. With that in mind, we are happy to announce the Google APIs Explorer, an interactive tool that lets you easily try out Google APIs right from your browser. Today, the Explorer supports over a half dozen APIs – and we expect that number to grow rapidly over the coming weeks and months. By selecting an API you want to explore, you can see all the available methods and parameters along with inline documentation. Just fill out the parameters for the method you want to try and click "Execute". Google Streetview. Google Wave Blog. Official Google Blog. Official Google Reader Blog. Official Google Mac Blog. Google Chrome Blog.
Official Gmail Blog. Official Google Docs Blog. Google Photos Blog.
---