Googles News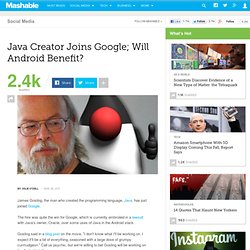 Java Creator Joins Google; Will Android Benefit?
James Gosling, the man who created the programming language, Java, has just joined Google. The hire was quite the win for Google, which is currently embroiled in a lawsuit with Java's owner, Oracle, over some uses of Java in the Android stack. Gosling said in a blog post on the move, "I don't know what I'll be working on. I expect it'll be a bit of everything, seasoned with a large dose of grumpy curmudgeon."
Google is always looking for new ways to make it easier for developers to get started with our APIs. When you come across a new Google API, you often want to try it out without investing too much time. With that in mind, we are happy to announce the Google APIs Explorer, an interactive tool that lets you easily try out Google APIs right from your browser. Today, the Explorer supports over a half dozen APIs – and we expect that number to grow rapidly over the coming weeks and months. By selecting an API you want to explore, you can see all the available methods and parameters along with inline documentation. Just fill out the parameters for the method you want to try and click "Execute".
Introducing the Google APIs Explorer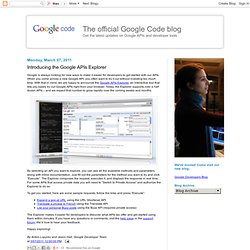 Google Streetview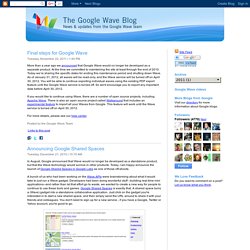 We're dedicated to giving you better access to the information you currently have in Google's Wave servers. We aim to provide multiple ways to let you export and migrate that information, and we have some updates for you in this blog post. Today, we're announcing a feature that lets you download your Google Wave content as a Zip file. Within any wave, you can now select "Export" which will let you save your current view of the wave, plus any attachments that have been added along the way.
Google Wave Blog
Every day, around the world, we search. We want to find out more about our heroes, explore far-away destinations, or settle a dinner table dispute between friends. And sometimes we just search to find out how many calories are in an avocado. In our annual Year-End Zeitgeist ("spirit of the times"), we reflect on the people, places, and moments that captured the world's attention throughout the year. This year marks our most global Zeitgeist to date—with 1,000+ top 10 lists across categories like Trending People, Most-Searched Events and Top Trending Searches from 72 countries. As we get ready to turn the page to 2014, we invite you to take a global journey through the biggest moments from the past 12 months in our Year in Review video: It's perhaps unsurprising that the #1 trending search of 2013 was an international symbol of strength and peace: Nelson Mandela.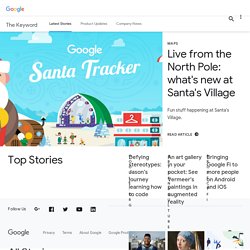 Posted by Alan Green, Software Engineer In the next week, we'll be making some highly requested changes to Google Reader. First, we're going to introduce a brand new design (like many of Google's other products) that we hope you love. Second, we're going to bring Reader and Google+ closer together, so you can share the best of your feeds with just the right circles. As a result of these changes, we also think it's important to clean things up a bit.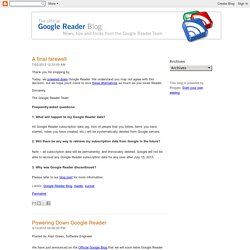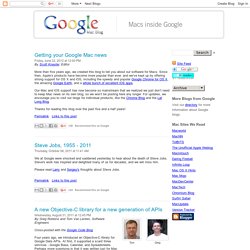 Official Google Mac Blog
By Mike Morton, Google Mac Team Google Engineer Mike Morton continues his nerd's-eye-view report from the Apple Worldwide Developer Conference in San Francisco. Today Mike starts with a festive breakfast and finishes at this year's edition of the legendary Stump the Experts. My team had a 7:00 a.m. meeting at a nearby restaurant so I woke early, dashed through the shower, glanced guiltily at the hotel gym, and headed out, only to find the restaurant is closed on Tuesdays. I continued on to a 7:30 breakfast for folks who coordinate chapters of CocoaHeads.
A few months ago we announced Chrome Apps which bring the best of productivity, games and more to your desktop. Starting today, you can access these apps on any computer with Chrome, including Mac. Check them out in the "For your desktop" collection in the Chrome Web Store. Chrome Apps work offline, update automatically and sync to any computer where you're signed into Chrome, so you can pick up where you left off. Your Chrome Apps on Mac behave and feel just like native software.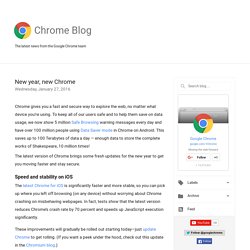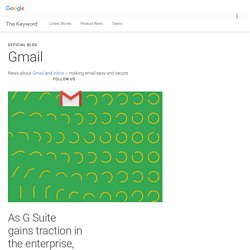 Posted by Sabrina Farmer, Senior Site Reliability Engineering Manager for Gmail On September 23rd, many Gmail users received an unwelcome surprise: some of their messages were arriving slowly, and some of their attachments were unavailable. We'd like to start by apologizing—we realize that our users rely on Gmail to be always available and always fast, and for several hours we didn't deliver.
Cross-posted from the Google Enterprise blog. Editor's note: Hangouts On Air are live video chats, interviews, or performances that are broadcast to Google+. We'll host these broadcasts from time to time on the Google Enterprise Google+ page to give you the inside scoop on our business and products. Last week, we hosted our first Hangout On Air from the Google Enterprise Google+ page with Jonathan Rochelle, Director of Product Management, Jeff Harris, Google Docs Product Manager, Teresa Wu, Google Docs Community Manager, and Eric Brunnett, Director of IT at Trump Hotel Collection. During the conversation, Jonathan Rochelle told us the story of how Google Docs, Google Drive and cloud collaboration came to be.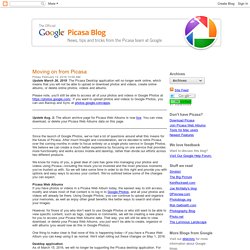 (Cross-posted from the Official Google Blog) Google+ is only a few months old, but the photography community is already thriving on it. Take a look at the profiles of Scott Jarvie, Thomas Hawk, Colby Brown or Claire Grigaut to see just a few of the inspiring photographers on Google+.
Google Photos Blog