Tools & Services
The 30 Best Content Curation Resources for Marketers and Business Pros. When I first graduated from college almost 20 years ago, I quickly learned that I was not prepared to have conversations with experienced business professionals on the reality of the business challenges they were confronting.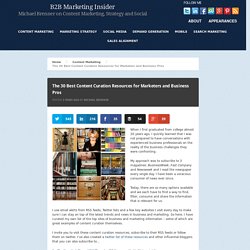 My approach was to subscribe to 3 magazines: BusinessWeek, Fast Company and Newsweek and I read the newspaper every single day. I have been a voracious consumer of news ever since. Today, there are so many options available and we each have to find a way to find, filter, consume and share the information that is relevant for us. I use email alerts from RSS feeds, Twitter lists and a few key websites I visit every day to make sure I can stay on top of the latest trends and news in business and marketing.
So here, I have curated my own list of the top sites of business and marketing information – some of which are great examples of content curation themselves. Wavii. TechValidate: Web-based software that gets you more customer proof, faster. Paper.li – Be a publisher. HubSpot Inbound Marketing Software. Content Curation & Online Marketing Solution - Curata.
Curation Platforms | SocialCompare - Comparisons community. Outils permettant de sélectionner manuellement des contenus en ligne, de les éditorialiser et de les partager.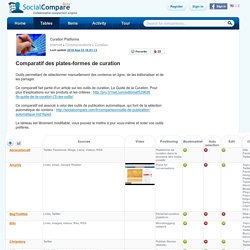 Ce comparatif fait partie d'un article sur les outils de curation, Le Guide de la Curation. Pour plus d'explications sur les produits et les critères : Ce comparatif est associé à celui des outils de publication automatique, qui font de la sélection automatique de contenu : Le tableau est librement modifiable, vous pouvez le mettre à jour vous-même et noter vos outils préférés. Mass Relevance « Engage Audiences Anywhere with Social Curation. Content Curation, Social Media and Beyond. Real-Time News Curation | Scoop.it. B2B Marketing Platform | Home.
---