Marketing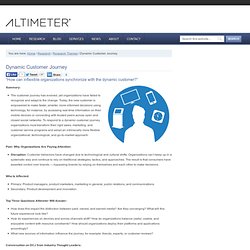 Dynamic Customer Journey
"How can inflexible organizations synchronize with the dynamic customer?" Summary: The customer journey has evolved, yet organizations have failed to recognize and adapt to the change.
Digital Body Language
Kevin Roberts of Saatchi on Experience Design | Mike Wittenstein
StartupChicks - StartupChicks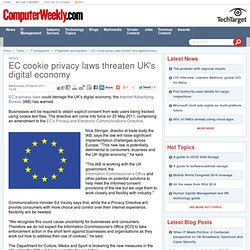 Wednesday 09 March 2011 10:09 EC e-privacy laws could damage the UK's digital economy, the Internet Advertising Bureau (IAB) has warned. Businesses will be required to obtain explicit consent from web users being tracked using cookie text files. The directive will come into force on 25 May 2011, comprising an amendment to the EC's Privacy and Electronic Communications Directive . Nick Stringer, director at trade body the IAB, says the law will raise significant implementation challenges across Europe. "This new law is potentially detrimental to consumers, business and the UK digital economy," he said.
EC cookie privacy laws threaten UK's digital economy
Effective workplace communication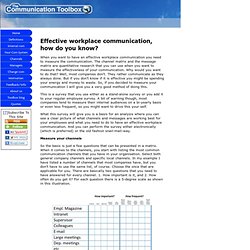 When you want to have an effective workplace communication you need to measure the communication. The channel matrix and the message matrix are quantitative research that you can use when you want to measure the effectiveness of your communication. Why would you want to do that?
do-you-know-your-users-introducing-behavioral-personas-0117147 from...
One of the first steps in designing a successful user experience is knowing your users. Understanding their goals, needs and skills lets you to provide content and functionality that resonates with your audience. There are plenty of tools in the user experience arsenal to help such as stakeholder discussions, user interviews, and surveys. However, by utilizing standard web analysis tools and relying on minimal direct user interactions you can actually create a powerful variation on the much talked about persona: the behavioral persona.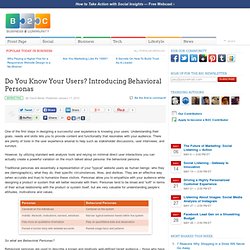 Create an Effective Presentation - Video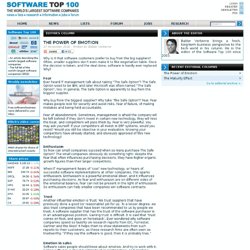 Why is it that software customers prefer to buy from the big suppliers? Often, smaller suppliers don't even make it to the negotiation table. Once the decision is taken, and the deal done, software is hardly ever replaced. Why? Fear Ever heard IT management talk about taking "The Safe Option"?
The Power of Emotion - The World's Largest Software Companies - Software Top 100
83 in Share 46 How are you measuring marketing's performance? If you are like most marketers, you're proud of all the ways you measure marketing – pageviews, visits, visitors, click-through rates, open rates, bouncebacks, unsubscribes, size/growth of the database, cost per lead, etc.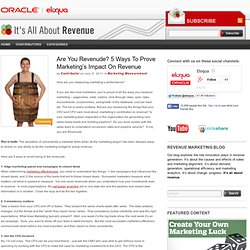 5 Measurable Ways To Prove Marketing Revenue's Impact | Eloqua Blog
Marketing KPI
Marketing KPI include KPIs: 1. Public relations KPI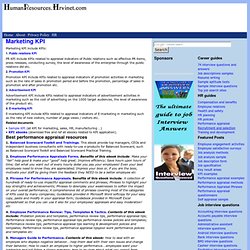 Sample Marketing interview questions and answers. You should remember that even there are 1000 marketing interview questions. It depend on your business field or marketing field, for example: - FCMG marketing, industrial marketing…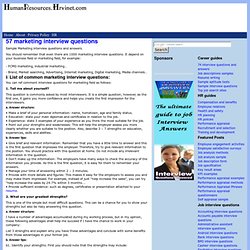 Marketing interview questions
RainKing Online | The Technology Salesperson's Unfair Advantage
BMC Software | RainKing Online
VP North American Sales RainKing Client Since 2008 "Our inside and field salespeople love the accuracy, depth, technology coverage, and project intelligence of the RainKing platform.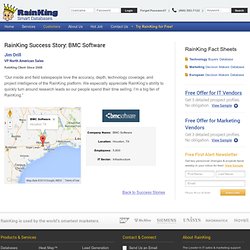 Problems We Solve : TechValidate
Content is the fuel of today's marketing, but creating great content is expensive and time-consuming.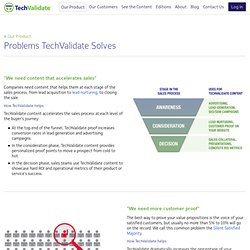 Small Business Resources and Tools - ::
This is the Best Digital Marketing Strategy Framework!!
By Arnaud, on July 6th, 2010 In a thorough problem-solving process you'll have to build two logic trees : one "why" to find the root cause of your problem and one "how" to identify potential solutions. Logic trees must be mutually exclusive and collectively exhaustive (MECE) and perspicacious. Building them is hard work (if it isn't, you're probably doing it wrong). So consider using existing frameworks wherever possible.
Use existing frameworks wherever possible | Powerful Problem Solving
Apply the models and frameworks to your particular business issues, in the same way that expensive consultants, MBAs and PHDs do. Use the models and frameworks to generate ideas, strategies, goals, action-plans, comparisons, analysis, solutions etc. Use the models and frameworks as base structures and add nodes to make them grow to match your very specific environment.
VALUE-CHAIN-MARKETING-MANAGER Software Strategy Model Framework Analysis Management
It seems that every week we hear about the need for creating a strategy for each new device and platform that emerges. "We need a mobile strategy!" or "We need a tablet strategy!" or "We need to create an integrated … Continue reading When we do webinars or talks on thought leadership marketing, we're often asked how to "get started" quickly, with little budget and resources all while still making an impact. I can certainly understand the desire to get started quickly and … Continue reading
Blog :: MarketingSavant :: Thought Leadership and Social Media Marketing | Green Bay, WI
Social Media Marketing Framework | grahamlubie.com
For many, Social Media is a chaotic and scary new place. To me, it's an opportunity for savvy organizations to accelerate their growth with this exciting new addition to integrated marketing and c ommuni cations. To deliver repeatable and measurable business results, I have developed this Social Media Marketing Framework (or shortened for Twitter to #SMMF). The Framework provides an execution blueprint that you can use to structure your social marketing activities to deliver exceptional results.
A Simple B2B Marketing Framework
We often discuss in this blog how B2B marketing is becoming more complex, and how to manage this complexity. Marketing is getting involved in many more areas that touch the customer along the buying process, multiplied by a dizzying variety of new tactics, online communications and engagement platforms. I have always liked frameworks to make sense of this complexity, and add some structure to identify focus areas and value drivers, dependencies and hierarchies - all to make complexity a bit easier to manage. Pragmatic Marketing Framework One of the best known frameworks in product marketing is from Pragmatic Marketing . Very clean and structured, it lists all major areas that need to be designed, built, and managed by product marketing and product management. My problem with the framework is that while it shows a neat hierarchy (from market to programs and support) it only loosely links its components along a common thread.
Integrated MarComm: Marketing Frameworks
4 Frameworks For Re-Thinking Your Marketing Strategy
A Startup Marketing Framework (Version 2)
Try Marketing Engineering for Excel | DecisionPro Inc
General
Spatially Relevant - Technology Marketing and Product Marketing
The Site for Books & Readers - Shelfari
Emotional Branding Alliance | Connecting brands to people, planet and purpose
Tools and Resources for Creatives
The Flexible Workplace: A Better Way to Work
UnMarketing: Stop Marketing. Start Engaging. (9780470617878): Scott Stratten
Strategy Speaks: a Peppers and Rogers Blog
PostcardMania - Direct and Bulk Mail Postcards - Postcard Marketing Experts
Content Marketing & Curation