Travel
Amazing Places To Experience Around The Globe (Part 1) Preachers Rock, Preikestolen, Norway Blue Caves - Zakynthos Island, Greece Skaftafeli - Iceland Plitvice Lakes – Croatia Crystalline Turquoise Lake, Jiuzhaigou National Park, China Four Seasons Hotel - Bora Bora.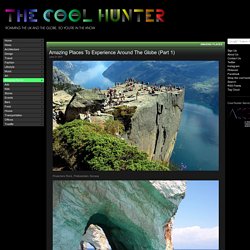 World Heritage Centre - World Heritage List. 9 Best Train Journeys in the World. In a modern world where traveling between destinations is viewed as a waste of time and resources, it is hard to actually comprehend the beauty of some of the most spectacular rides on the planet.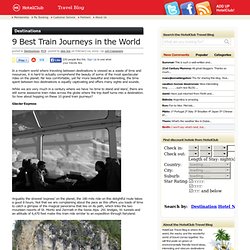 Far less comfortable, yet far more beautiful and interesting, the time spent between two destinations is equally captivating and offers many sights and sounds. While we are very much in a century where we have 'no time to stand and stare', there are still some awesome train rides across the globe where the trip itself turns into a destination. So how about hopping on these 10 grand train journeys? Glacier Express Arguably the slowest 'express' on the planet, the 180 mile ride on this delightful route takes a good 8 hours. 10 World's Greenest Countries.
The Environmental Performance Index (EPI) is a method of measuring the performance of national governments related to environmental policies.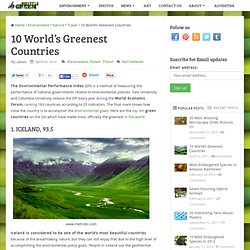 Yale University and Columbia University release the EPI every year during the World Economic Forum, ranking 163 countries according to 25 indicators. The final mark shows how close the country is to accomplish the environmental goals. Here are the top ten green countries on the list which have made most, officially the greenest in the world. 1. Bolivian Salt Fields.