sewing
Get flash to fully experience Pearltrees
I am completely addicted to sewing bags! I have tried my hand at many handbag patterns and thought it was about time to write my own! I'd like to introduce you to the Naughty Secretary Bag! I'm not really sure how I arrived at this name...it just popped into my head, lol. At a generous 15" x 14" size, this bag totes around books, a laptop, whatever!
Learn to make shorts patterns according to YOUR measurements; and they're guaranteed to fit! To give you an illustration of how easy it is to make a pattern, let's make a shorts pattern with a gathered waist. For the example, we'll use a hip measurement of 42 inches, crotch length of 10" (measure the crotch while sitting in a straight back chair and measure from the waist to the chair then add 1 1/4" (ours being 10") and shorts length of 20 inches. Remember, when you make the shorts pattern for yourself you simply use YOUR hip, crotch and shorts length measurements instead of these sample ones. Steps for drawing the FRONT of the shorts pattern: 1.
First...pictures of my finished messenger bag Front Back pocket/side view
Jamie's on the left, Chelsea's on the right. This tutorial does not include the flap designs, alas.
My best friend got married last weekend and I wanted to make her a personalized Emergency Wedding Kit. So, I decided to create a makeup bag that I could fill with all sorts of wedding day goodies. I filled it with floss, a toothbrush, toothpaste, tweezers, lotion, mouthwash, various pain relievers and antacids, and other things she might need on her special day.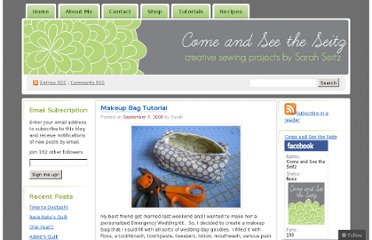 Quick and easy make-up bag for K with tutorial. Finished one flip flop beach bag today. Only 19 to go!
Here is a simple way to make a tote bag.
Hello visitors!
I found some spare time to finally write down the tutorial I promised last week. The bag has been used extensively lately, and I must say it's one of my favorites (didn't I say that of every single one of my bags?).