Furniture
Pallet Bookshelves. Oh my goodness gracious!!!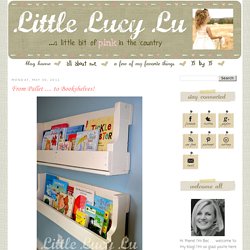 I haven't been THIS excited about a project since my ladder laundry rack! (Well, the mom cave is pretty exciting, too - but that's not done yet! Pallet coffee table. This modern, ethnic-looking coffee table, with its ochre stripes that conjures up visions of Marrakech, was made from a wooden pallet discarded in a shopping area.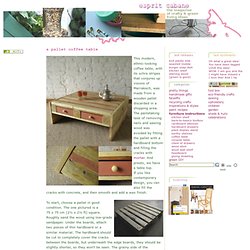 The painstaking task of removing nails and sawing wood was avoided by fitting the pallet with a hardboard bottom and filling the cracks with mortar. And presto, we have a table top. If you like contemporary design, you can also fill the cracks with concrete, and then smooth and add a wax finish. Bookshelves. Ladder Bookshelf. Read your bookcase. Bottle Cap Table. Floor Cushion. Upholstered Bucket Ottoman.
---