TOP blogs
don't pop my balloon
Pour cette semaine, un carrousel joyeux, léger et coloré, parce que c'est la printemps, et qu'au printemps, on court dans les champs avec un ballon à la main, on fait des bulles de savon, on cueille des fleurs et on fait des balades à vélo (avec un ballon à la main aussi, oui oui !) 1. Handmade tale, Vogue US, octobre 2008 (photo: Patrick Demarchelier) 2. Kylie Minogue par David de Lachapelle 3. trouvé sur bemybridesmaid.com 6. modèle : Teresa Palmer 7. publicité Mulberry, printemps-été 2010 8. photo Michaël Creagh 9. Harper's Bazaar Russia, avril 2010 (Chloë Sevigny) 10.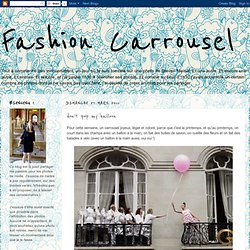 7 Fashion PR Agency Blogs to Watch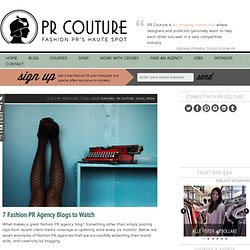 What makes a great fashion PR agency blog? Something other than simply posting clips from recent client media coverage or updating once every six months! Below are seven examples of fashion PR agencies that are successfully extending their brand, skills, and creativity by blogging. Ruby Press The Ruby Press blog, like everything that comes out of Ruby Press, is tasteful, editorial and gorgeous. Multiple authors, from interns to Melissa herself, share their latest inspirations and fun finds.
Trends - Stylediggers
Kate Moss wedding day by Mario Testino - Stylediggers
Kate Moss et Mario Testino
THEFASHIONGUITAR