Divers
Chaîne de pvnova. Some Memories by Moossye. Il y a un an, je vous parlais de l'exposition « Arcade !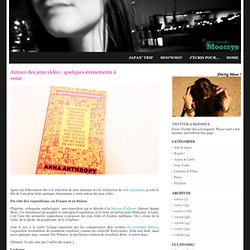 Jeux vidéo ou Pop Art ? « , pour laquelle je suis commissaire adjointe (a.k.a Lieutenant Coville). Co-produite par deux scènes nationales (le Théâtre de l'Agora à Evry et le Lux° de Valence), l'exposition propose 6 jeux vidéo de moins de 10 ans, pour la plupart issu de la scène indépendante.
Inclassables
Langues. Miam-miam. Boutique. Etudes. Informatique. Artistique. Electronic Diversity Visa Lottery. Postcards connecting the world. Bienvenue dans le BookCrossing. La Caverne de Platon. Summer camp jobs, work and travel experiences, and volunteer adventures in the USA and around the world.
---