Webcam
Hi. I released new ARToolKit Marker Generator. It makes you create original markers for ARToolKit.
Marker"s" Generator Online Released! « flash.tarotaro.org.blog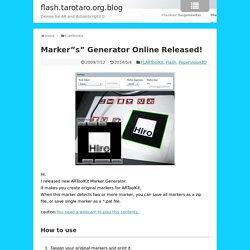 ARToolKit Marker Maker at roarmot.co.nz
Creating and training new ARToolKit markers - ARToolworks support library
From ARToolworks support library Main Page > ARToolKit Professional > Creating and training new ARToolKit markers Introduction What are markers? Markers are the squares that ARToolKit recognises and tracks in a video stream. That is, markers are the physical patterns that you've created or printed out.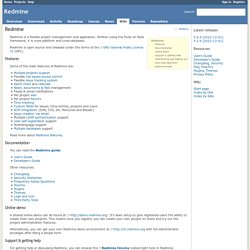 Redmine is a flexible project management web application. Written using the Ruby on Rails framework, it is cross-platform and cross-database. Redmine is open source and released under the terms of the GNU General Public License v2 (GPL).