DIY and Crafts
Get flash to fully experience Pearltrees
Pregnancy insomnia can be a little bit of a blessing (depending on how you look at it). Sometimes when I can't sleep I randomly get these ideas that just pop into my head. I quickly jot them down into my phone and revisit them when I am coherent in the morning.
Need a cute baby shower idea? Here's a fun way to package those baby essentials--make some cupcakes! For this project you'll need:
Hee hee! Isn't this the cutest picture ever? I love this little sweetie. I also have a new niece coming in September, so I'm making all things girlie these days.
I think these are a brilliant idea. They're perfect for hiding underwear and muffin tops that are often visible with today's lose-rise jeans, without having to wear a t-shirt or tank. Unfortunately, these hip cover ups are for grown woman. Anyone with a tween daughter will know that younger girls could use this too. Why, oh why do clothing companies make low rise or ultra low rise pants for little girls? Sheesh!
There's nothing like the perfect summer tank to get you through the dark days of January. As the pioneer project on the site, Tie Baby is a refreshingly easy no-sew design. That's right, just grab your scissors and get busy. Finish it off with a knot at each shoulder for some double trouble. See you at the beach! Ingredients: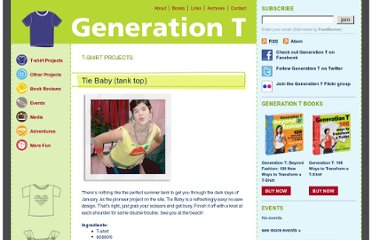 Need last-minute costume ideas? Beyond sticking a load of Peeps all over a black T-shirt (you're a "chick magnet," get it?), or drawing a zigzag black line across a yellow T-shirt (Charlie Brown!)
A little last-minute, I know, but here's wishing you a very Happy Valentine's Day from Generation T! Here are two love ly T-shirt tutorials excerpted from Generation T and Generation T: Beyond Fashion –they're designs that can be made all year, really, anytime you want to share the love. With a few simple snips and stitches, you can wear your heart on your sleeve, or right across your chest.
Home » $1 and Free , cheap crafts , Headline , Kids 1 May 2012 2,567 views 2 Comments by heather Have a broken umbrella that you aren't quite ready to get rid of?
This T-shirt transformation project is my favorite of the accessories in my first book. They're the Go-go Gauntlets (project #73) from Generation T: 108 Ways to Transform a T-shirt . They're super easy to stitch up in an afternoon, and even easier to embellish with iron-on glitter sheets –which seriously increase the superhero factor.
Living in New York, my shoes get especially dirty (it's a special kind of filth). On the occasion that I'm traveling away from New York (which I am very soon !) and packing for that trip, I like to protect the clothes in my suitcase from all of the grime that collects on my shoes. (The streets may be paved in gold, but that's definitely not what's sticking to the soles of my shoes.)
The ultimate in formal attire meets the ultimate in casual wear in this necktie/T-shirt mash-up! Well beyond the traditional " Tie T-shirt " (which will pass for office dress code as much as the T-shirt Tux is appropriate for a wedding), how about a T-shirt tie? Enter Etsy seller SupperClub (aka Lily Rothman), who makes one-of-a-kind neckties from old T-shirts (and other vintage or recycled materials). There's an Oxford tie for the recent grad. A Notre Dame tie to wear to the next big game. Or, mail Supperclub a T-shirt from your own closet, and she'll transform it for you into a totally dynamite gift for dad/brother/boyfriend.
You're going to love today's DIY project so much that you're going to want to start tearing pages out from old books tonight! Remember the storybook roses in Shanna + Richard's wedding? Sweet, right? Floral designer, Cathy Brim of Bloom Floral Design created the elegant branch bouquets seen in their ceremony using Valerie Lloyd's paper roses design, and now we're jumping-out-of-the-pages excited that Valerie is sharing her DIY secrets with you! Craft Supplies: Paper Grosgrain Ribbon, ½ Width cut to 4 inch lengths 16 Gauge Wire cut to 15 inch lengths Glue Gun Glue Sticks (low temp) Scissors Wire Cutters