B.A.B.A.
Logo design resources. I've searched my bookmarks and gathered your top tips, culminating in this selection of sites, books, articles and designers.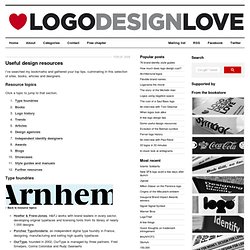 Resource topics Click a topic to jump to that section. Type foundries // Back to resource topics. KIT DE SURVIE DU CREATIF /// metiersgraphiques.fr. Copy Strategy : tout ce qu'il faut savoir. Le Brief Créatif de A à Z... par un créatif. Techniques for Choosing the Perfect Brand Name. As a new business (whether your independent or large corporation), we're faced with many difficult decisions before we open up shop – the perfect location, how to effectively market yourself, pricing strategies, and more importantly, deciding on a great, memorable and identifiable brand name.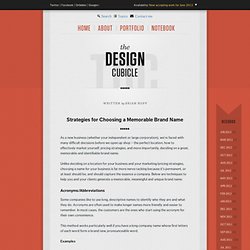 Unlike deciding on a location for your business and your marketing/pricing strategies, choosing a name for your business is far more nerve racking because it's permanent, or at least should be, and should capture the essence a company. Below are techniques to help you and your clients generate a memorable, meaningful and unique brand name. Acronyms/Abbreviations. Dico de la Pub : index A. S.A.C.E.M Sigle : Société des auteurs, Compositeurs et Editeurs de Musique. 225, avenue Charles de Gaulles 92521 Neuilly-sur-Seine Cedex Tél. : 01 47 15 47 15 Fax : 01 47 45 12 94 Internet : www.sacem.fr SAGACITÉ Qualité d'intuition et de vivacité d'esprit que la loi exige pour définir un jeu -concours ne faisant pas appel au hasard.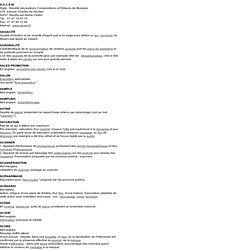 SAISONALITÉ Caractéristique de la consommation de certains produits que les plans de marketing et de publicité prennent en compte.
---