Research Tools
I have used reference database software for many years. RefWorks is the most intuitive and least problematic of any software that I have used. It permits me to capture the reference information for the online resources more effectively than other tools. I am also impressed by the responsiveness of the RefWorks development team. Personally, I have found RefWorks invaluable!"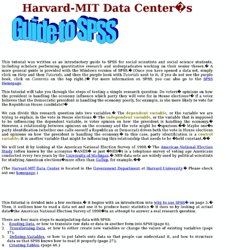 This tutorial was written as an introductory guide to SPSS for social scientists and social science students, including scholars performing quantitative research and undergraduates working on their senior theses. A more general guide is provided with the Windows version of SPSS. (Once you have opened a data set, simply click on Help and then Tutorials, and then the purple book with Tutorials next to it; if you do not see the purple book, click on Contents on the top right.)
Mendeley is a free reference manager and academic social network that can help you organize your research, collaborate with others online, and discover the latest research. Automatically generate bibliographies Collaborate easily with other researchers online Easily import papers from other research software Find relevant papers based on what you're reading Access your papers from anywhere online Read papers on the go, with our new iPhone app View more features… Groups allow you to share and collaborate with other researchers in your discipline. Featured Groups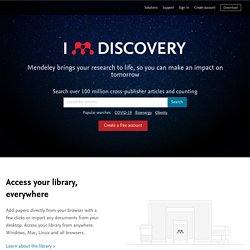 Cite perfectly. Whether you need to create footnotes, endnotes, in-text citations, or bibliographies, Zotero will do all the dirty work for you, leaving you free to focus on your writing. Create citations in Word and OpenOffice without ever leaving your word processor and add references to an email, a Google Doc, or some other editor simply by dragging one or more references out of Zotero. Always in style. Ready to submit your manuscript to Tropical Doctor or French Historical Studies?