Stock-Market
Juan Francés nos presenta una interesante reflexión sobre los lobbies en su libro ¡Que vienen los lobbies! Primero, porque el libro es muy completo. Segundo, porque cuenta con testimonios de primera mano, desde el de Martínez Pujalte del PP hasta Jordi Sevilla del PSOE. Y tercero, porque como todo buen libro que presenta un problema, también propone una solución.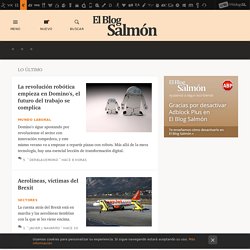 Next week will be extremely busy on the earnings front with no less than 550 companies set to report their first quarter numbers. Below is a list of some of the largest and most widely followed companies set to report. For each stock, we provide its report date and time along with some key statistics collected from our Interactive Earnings Report Database (available to Bespoke Institutional members). On Monday morning we'll hear from Halliburton (HAL), while Netflix (NFLX) is set to report Monday afternoon.

Última hora en Información Económica , Expansion
Futuros intradia - Comentarios y analisis en Tiempo Real
"El alza del oro 2014 llevó a los precios a su nivel más alto desde septiembre, antes de que una acción más "hawkish" de los esperado en la reunión del FOMC de marzo presionara a los precios a la baja. Tres catalizadores transitorios han impulsado este rally: (1) una fuerte desaceleración de la actividad económica de EE.UU. que creemos que se debió al clima (2) las preocupaciones crediticias chinas, aunque en última instancia bajista para la demanda de oro a través de acuerdos de financiación más bajos si se realizan, y (3) la escalada de las tensiones en Ucrania. Mientras que una mayor escalada de las tensiones podría apoyar los precios del oro, se espera una aceleración secuencial en la actividad de China y EE.UU., y por lo tanto una caída de los precios del oro, aunque se pueden tardar varias semanas en despejar las incertidumbres en torno a esta aceleración.
- CAPITAL BOLSA -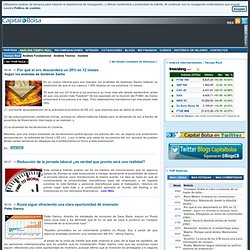 La tabla que publicamos, realizada por uno de los analistas técnicos de Wall Street más demandados para dar conferencias y programas master a profesionales, refleja el proceso que deberían realizar los gestores que basan su operativa en el análisis técnico para la toma de decisiones. Como vemos, la disciplina en este tipo de operativa es igual de importante que las basadas en el análisis fundamental. Publicamos este proceso: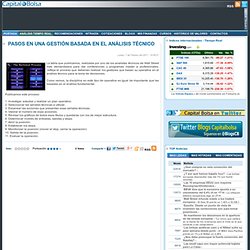 PASOS EN UNA GESTIÓN BASADA EN EL ANÁLISIS TÉCNICO
De entrada, el comentario en el Informe trimestral....al final, un resumen de los datos publicados en los últimos días. De acuerdo con las últimas cifras de la Contabilidad Nacional Trimestral (CNTR) publicadas por el Instituto Nacional de Estadística a finales de febrero, el PIB de la economía española experimentó un descenso del 0,8 %, en términos intertrimestrales, en el cuarto trimestre de 2012, tras la caída del 0,3 % observada en el tercero. La demanda nacional disminuyó un 2 % intertrimestral, con una intensificación del retroceso de todos sus componentes. Por otra parte, la aportación positiva de la demanda exterior al crecimiento del producto aumentó en cuatro décimas, hasta 1,2 puntos porcentuales (pp), lo que se debió a que las importaciones se redujeron de forma más acusada que las exportaciones.
Análisis de Cárpatos y su equipo en Serenity Markets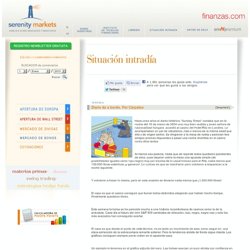 The Market Oracle :: J. Mauldin
by Bill McBride on 4/18/2014 08:21:00 PM Following some comments from Senator Rand Paul, I've been requested to post this again with a couple of tables added. Senator Paul said last week: "When is the last time in our country we created millions of jobs? It was under Ronald Reagan ..." That is completely wrong. (I've corrected both Republicans and Democrats, but recently it is mostly prominent Republicans that make stuff up!).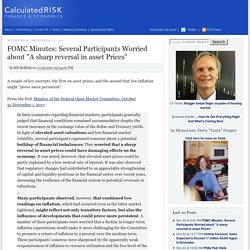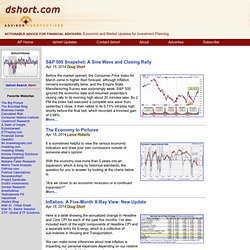 S&P 500 Snapshot: A Sine Wave and Closing RallyApr 15, 2014 Doug Short Before the market opened, the Consumer Price Index for March came in higher than forecast, although inflation remains exceptionally tame, and the Empire State Manufacturing Survey was surprisingly weak. S&P 500 ignored the economic data and resumed yesterday's closing rally to its morning high about 20 minutes later. By 2 PM the index had executed a complete sine wave from yesterday's close.
Análisis de Cárpatos y su equipo en Serenity Markets
Inmobiliaria - Burbuja Económica
InverForo: Comunidad sobre dinero, bolsa y vivienda
- CAPITAL BOLSA -