Stock-Market
Economía y empresas. El blog Salmón. Bespoke Investment Group - Think BIG. Última hora en Información Económica , Expansion. Futuros intradia - Comentarios y analisis en Tiempo Real. - CAPITAL BOLSA - PASOS EN UNA GESTIÓN BASADA EN EL ANÁLISIS TÉCNICO. La tabla que publicamos, realizada por uno de los analistas técnicos de Wall Street más demandados para dar conferencias y programas master a profesionales, refleja el proceso que deberían realizar los gestores que basan su operativa en el análisis técnico para la toma de decisiones.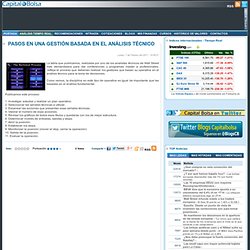 Como vemos, la disciplina en este tipo de operativa es igual de importante que las basadas en el análisis fundamental. Publicamos este proceso:
Análisis de Cárpatos y su equipo en Serenity Markets. De entrada, el comentario en el Informe trimestral....al final, un resumen de los datos publicados en los últimos días.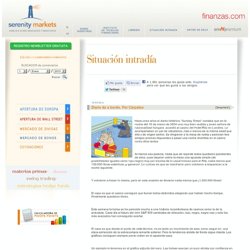 De acuerdo con las últimas cifras de la Contabilidad Nacional Trimestral (CNTR) publicadas por el Instituto Nacional de Estadística a finales de febrero, el PIB de la economía española experimentó un descenso del 0,8 %, en términos intertrimestrales, en el cuarto trimestre de 2012, tras la caída del 0,3 % observada en el tercero. La demanda nacional disminuyó un 2 % intertrimestral, con una intensificación del retroceso de todos sus componentes. Por otra parte, la aportación positiva de la demanda exterior al crecimiento del producto aumentó en cuatro décimas, hasta 1,2 puntos porcentuales (pp), lo que se debió a que las importaciones se redujeron de forma más acusada que las exportaciones.
Safehaven.com | Preservation of Capital. The Market Oracle :: Financial Markets Analysis & Forecasting Free Website. The Market Oracle :: J. Mauldin. Calculated Risk. Dshort.com - Financial Life Cycle Planning. S&P 500 Snapshot: A Sine Wave and Closing RallyApr 15, 2014 Doug Short Before the market opened, the Consumer Price Index for March came in higher than forecast, although inflation remains exceptionally tame, and the Empire State Manufacturing Survey was surprisingly weak.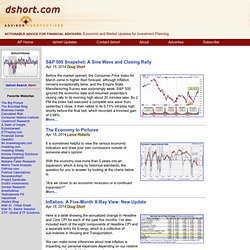 S&P 500 ignored the economic data and resumed yesterday's closing rally to its morning high about 20 minutes later. By 2 PM the index had executed a complete sine wave from yesterday's close. Análisis de Cárpatos y su equipo en Serenity Markets. Inmobiliaria - Burbuja Económica. InverForo: Comunidad sobre dinero, bolsa y vivienda. - CAPITAL BOLSA -
---