Stock-Market
Juan Francés nos presenta una interesante reflexión sobre los lobbies en su libro ¡Que vienen los lobbies! Primero, porque el libro es muy completo. Segundo, porque cuenta con testimonios de primera mano, desde el de Martínez Pujalte del PP hasta Jordi Sevilla del PSOE. Y tercero, porque como todo buen libro que presenta un problema, también propone una solución.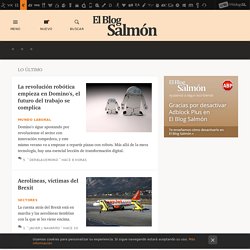 This chart crossed our Twitter feed more than a couple of times over the last few days and didn't make much sense to us, so we decided to look into it. The argument implied is that when Wall Street blows up on the big screen, a market crash can't be far away. Looking at the above chart, it seems like every new movie featuring the financial world has been the harbinger of doom, and a massive bear market has been just around the corner. Think of it as a Hollywood version of The Skyscraper Index.

Última hora en Información Económica , Expansion
Futuros intradia - Comentarios y analisis en Tiempo Real
- CAPITAL BOLSA -
La tabla que publicamos, realizada por uno de los analistas técnicos de Wall Street más demandados para dar conferencias y programas master a profesionales, refleja el proceso que deberían realizar los gestores que basan su operativa en el análisis técnico para la toma de decisiones. Como vemos, la disciplina en este tipo de operativa es igual de importante que las basadas en el análisis fundamental. Publicamos este proceso: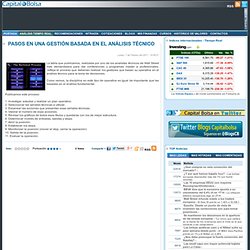 PASOS EN UNA GESTIÓN BASADA EN EL ANÁLISIS TÉCNICO
De entrada, el comentario en el Informe trimestral....al final, un resumen de los datos publicados en los últimos días. De acuerdo con las últimas cifras de la Contabilidad Nacional Trimestral (CNTR) publicadas por el Instituto Nacional de Estadística a finales de febrero, el PIB de la economía española experimentó un descenso del 0,8 %, en términos intertrimestrales, en el cuarto trimestre de 2012, tras la caída del 0,3 % observada en el tercero. La demanda nacional disminuyó un 2 % intertrimestral, con una intensificación del retroceso de todos sus componentes. Por otra parte, la aportación positiva de la demanda exterior al crecimiento del producto aumentó en cuatro décimas, hasta 1,2 puntos porcentuales (pp), lo que se debió a que las importaciones se redujeron de forma más acusada que las exportaciones.
Análisis de Cárpatos y su equipo en Serenity Markets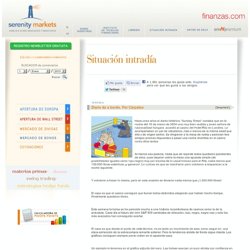 Safehaven.com | Preservation of Capital
The Market Oracle :: J. Mauldin
by Bill McBride on 1/17/2014 04:20:00 PM From housing economist Tom Lawler: Based on realtor association/MLS reports from across the country, I estimate that US existing home sales as measured by the National Association of Realtors ran at a seasonally adjusted annual rate of 4.96 million in December, up 1.2% from both November's seasonally adjusted pace and last December's seasonally adjusted pace. I estimate that unadjusted sales (as measured by the NAR) showed a slightly higher YOY growth than SA sales, reflecting this December's higher business day count than last December. YOY sales results varied massively across the country. California home sales showed a sizable YOY drop last month, reflecting a large decline in "distressed" sales as well as a steep decrease in investor buying of both distressed and non-distressed sales, combined with relatively flat sales to owner occupants.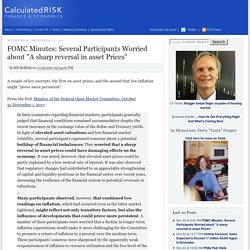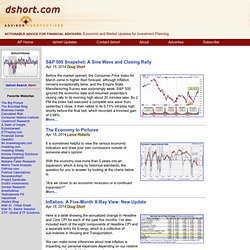 S&P 500 Snapshot: The Index Rises After a Confusing Employment ReportJan 10, 2014 Doug Short The much anticipated December Employment Report was a bizarre mixed bag -- weak job creation but a surprising decline in unemployment. Treasuries rallied in no uncertain terms. The yield on the 10-year note dropped nine bps to close at 2.88%.
Análisis de Cárpatos y su equipo en Serenity Markets
Inmobiliaria - Burbuja Económica
InverForo: Comunidad sobre dinero, bolsa y vivienda
- CAPITAL BOLSA -