Green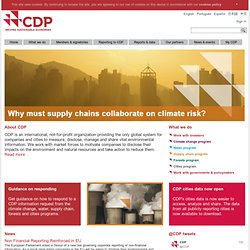 Non Financial Reporting Reinforced in EU The European Parliament voted in favour of a new law governing corporate reporting of non-financial information. As a result large listed companies in the EU will be asked to disclose their environmental and social impacts as part of their mainstream reporting to investors. Climate change means business change Climate change will affect European businesses in critical ways, making adaptation efforts instrumental for their prosperity. According to the CDP snapshot report major companies across Europe already experience climate impacts and are taking the issue seriously. Water scarcity threatens profitability of European companies A report published by CDP 'Safeguarding Europe's Water Resources' finds that for an increasing number of European companies, water already has and will continue to have a profound effect on both their short term and long term profitability.
GE: Ecomagination Challenge: Powering Your Home: Home
Plan de Acción Nacional de Energías Renovables 2010-2010 - IDAE, Instituto para la Diversificacion y Ahorro de la Energía
Green News | Green Technology
Top global building controls and energy management company Schneider Electric launched an energy-reducing program today targeting residential consumers. Specifically, the offering is in demand response, which was a hot area last year. Demand response is program in which utilities can offer financial incentives for customers who turn down energy usage during critical or peak load times, usually during the day.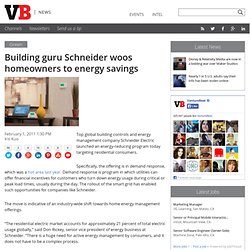 Building guru Schneider woos homeowners to energy savings
Web2Energy: Start
2012 Año Internacional de la Energía Sostenible para Todos Reconociendo la importancia de la energía para el desarrollo sostenible, la Asamblea General de las Naciones Unidas proclamó el año 2012 Año Internacional de la Energía Sostenible para Todos mediante resolución 65/151. El Año Internacional de la Energía Sostenible para Todos ofrece una valiosa oportunidad para profundizar la toma de conciencia sobre la importancia de incrementar el acceso sostenible a la energía, la eficiencia energética y la energía renovable en el ámbito local, nacional, regional e internacional.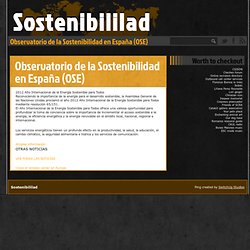 Observatorio de la Sostenibilidad en Espa?a (OSE) |
AgBioWorld - Supporting Biotechnology in Agriculture
Pontifical Academy of Sciences study : Transgenic Plants for Food Security in the Context of Development Biotech Food Myths, Misconceptions and Misinformation -- A Response to False Activist Claims Peer Reviewed Publications on the Safety of GM Foods By Dr. Christopher Preston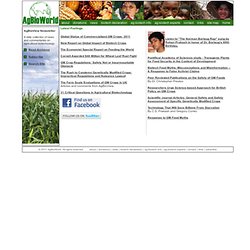 2014 Sustainability Solutions Festival Updated: 2013-08-17 Added by newlisting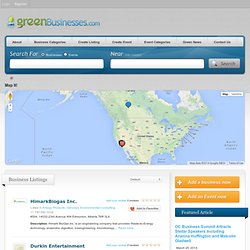 GreenBusinesses.com
EnergyBiz
photo: S. Higginbotham Philips has a been a steady innovator when it comes to connected devices, so I try to discover how the consumer products giant is thinking about the opportunity connectivity presents. Read more » photo: Courtesy of Opower
Earth2Tech - Cleantech, Green IT and Smart Grid News and Analysis
Energías Renovables, el periodismo de las energías limpias.
Crisis Energ?tica - Respuestas a los retos energ?ticos del SXXI