Green
Carbon Disclosure Project - Global climate change reporting system. Non Financial Reporting Reinforced in EU The European Parliament voted in favour of a new law governing corporate reporting of non-financial information.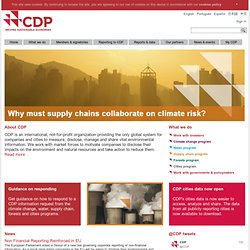 As a result large listed companies in the EU will be asked to disclose their environmental and social impacts as part of their mainstream reporting to investors. Climate change means business change Climate change will affect European businesses in critical ways, making adaptation efforts instrumental for their prosperity.
According to the CDP snapshot report major companies across Europe already experience climate impacts and are taking the issue seriously. Water scarcity threatens profitability of European companies A report published by CDP 'Safeguarding Europe's Water Resources' finds that for an increasing number of European companies, water already has and will continue to have a profound effect on both their short term and long term profitability. GE: Ecomagination Challenge: Powering Your Home: Home. Plan de Acción Nacional de Energías Renovables 2010-2010.
Green News | Green Technology. Building guru Schneider woos homeowners to energy savings. Top global building controls and energy management company Schneider Electric launched an energy-reducing program today targeting residential consumers.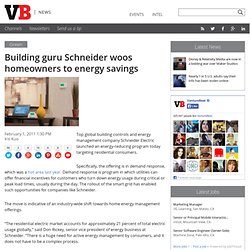 Specifically, the offering is in demand response, which was a hot area last year. Demand response is program in which utilities can offer financial incentives for customers who turn down energy usage during critical or peak load times, usually during the day. GreenTech - TechCrunch.
Web2Energy: Start. UE. Hydrogen. Observatorio de la Sostenibilidad en Espa?a (OSE) | Agriculture. AgBioWorld - Supporting Biotechnology in Agriculture. GreenBusinesses.com. EnergyBiz. BusinessGreen - news, comment and analysis for the low carbon economy. Earth2Tech - Cleantech, Green IT and Smart Grid News and Analysis. EcoFriendly. Energías Renovables, el periodismo de las energías limpias. Crisis Energ?tica - Respuestas a los retos energ?ticos del SXXI. Green Business News, Resources, and Sustainability Career Tools | Business.
---