Green
GE: Ecomagination Challenge: Powering Your Home: Home
Plan de Acción Nacional de Energías Renovables 2010-2010 - IDAE, Instituto para la Diversificacion y Ahorro de la Energía
Green News | Green Technology
Top global building controls and energy management company Schneider Electric launched an energy-reducing program today targeting residential consumers. Specifically, the offering is in demand response, which was a hot area last year. Demand response is program in which utilities can offer financial incentives for customers who turn down energy usage during critical or peak load times, usually during the day.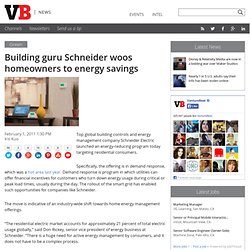 Building guru Schneider woos homeowners to energy savings
Web2Energy: Start
Observatorio de la Sostenibilidad en Espa?a (OSE) |
AgBioWorld - Supporting Biotechnology in Agriculture
GreenBusinesses.com
EnergyBiz
Earth2Tech - Cleantech, Green IT and Smart Grid News and Analysis
Energías Renovables, el periodismo de las energías limpias.
Crisis Energ?tica - Respuestas a los retos energ?ticos del SXXI