Foodie Delights
Las Vegas Buffet - Bacchanal Buffet – Caesars Palace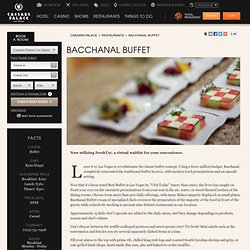 Awarded Best Buffet in Las Vegas by USA Today, Las Vegas Review Journal and Las Vegas Weekly, Bacchanal Buffet at Caesars Palace is excited to announce its approximately fifteen daily chef's specials that are added to over 500 daily food offerings at this buffet on the Las Vegas Strip.
Schwartz Out of this World Chocolates - Schwartz Candies
Roscoe's on Pico Blvd.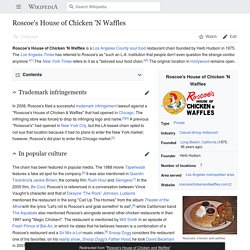 Roscoe's House of Chicken and Waffles
Opening April 2013 Bring a BIG appetite to BIG Bar – where everything is maximized in size. From colossal shrimp cocktail to Chicago pizza, you'll never leave hungry! Try our super stacked Club sandwich, Buffalo Wings or a grande order of Barbeque Chicken Nachos (which is more like a meal than an appetizer). They all go great with one of our Diamond signature cocktails or draft beer in sizes "Big", "Bigger" and "Biggest". Our open-air, mezzanine-level bar and lounge boasts the longest free-standing bar on the continent. Enjoy more then 1,400 beverage choices from champagne and wine to cognac, whiskey, and extraordinary specialty drinks like the BIG Interactive House Martini (we supply the ingredients and you do the mixology).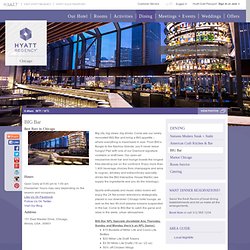 BIG Bar
best german chocolate cake
The White Barn Inn in Kennebunkport, ME (Photo: Courtsy of the White Barn Inn) By now, the word is out that Manhattan's River Café is the perfect place for a marriage proposal, and that the French Laundry is the place to go in the Napa Valley. Dig a bit deeper, however, and romantic restaurants can be found almost everywhere, with marvelous menus combining with a lovely sense of place. Here are some ideas from every corner of the country.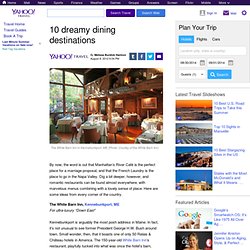 10 dreamy dining destinations
Jelly Shot Test Kitchen
The 38 Essential Las Vegas Restaurants, July 2013 - Eater 38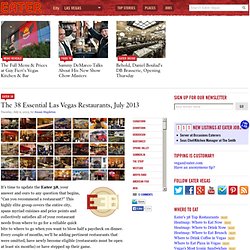 Certainly the most molecular of all the city's elite French rooms, the approach here is to take a modern "twist" to more classical French fare. Chef Pierre Gagnaire spends 33 days a year in house to ensure that this culinary mission is achieved and the experience matches the extraordinary Strip views seen from the space's 23rd floor perch. Abriya Raku
Best Thing I ever Ate - Ep Guide