Anglais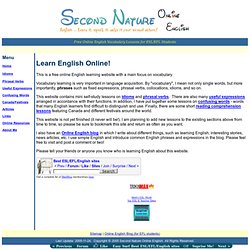 This is a free online English learning website with a main focus on vocabulary. Vocabulary learning is very important in language acquisition. By "vocabulary", I mean not only single words, but more importantly, phrases such as fixed expressions, phrasal verbs, collocations, idioms, and so on. This website contains mini self-study lessons on idioms and phrasal verbs. There are also many useful expressions arranged in accordance with their functions. In addition, I have put together some lessons on confusing words - words that many English learners find difficult to distinguish and use.
Free Online English Vocabulary Lessons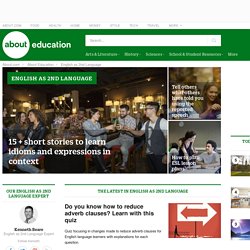 If you work in an office, you'll know the importance of confirming information to double-check that you've got all the facts right before submitting a business report. You may need to ask for information from others, as well as asking for permission to use information you receive. Use the linked resources to learn appropriate phrases and practice each type of situation. The first and most important rule to improving English written skills is to avoid repetition.

The main aim of Learn English is to help promote friendship and understanding amongst native speakers and learners of English as a foreign / second language. To enable EFL / ESL learners to take control of their own learning process. To promote the use of technology for learning and for teaching. To become the premier free EFL / ESL resource on the web. The Learn English Network is a not-for-profit organisation registered in the UK.
English Online France - Resources for students and teachers of English as a foreign language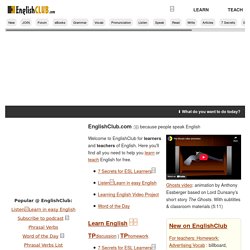 Good morning :) and welcome to ...helping you learn English or teach English. You'll find everything from lessons for learners to jobs for teachers, including fun pages like games, videos, quizzes and chat. Check out this month's Star Members! What is English? | How to Learn English | How to Start an English Club | Joe's Cafe | Tara's Page | Power Of 7 | Interesting Facts About English | Idiom of the Day | Slang of the Day | Phrasal Verb of the Day | Saying of the Day | This Week in History | Weekly News | 7 Secrets | Student Forums | Teacher Forums | Language Tools | Online Degrees | RSS Feeds | Guestbook | FREE Downloads | English Links | ESL World | Webmasters | Sitemap | Submit Guest Article