Blogging
The official blog of lang-change.com - Home
Freedom and Prosperity Protectionist Party - We are the protectionist party. These are our views.
Because of my love.... - To the one that got away.
Adventures in Entrepreneurship - An Entrepreneur's Blog
Where Good Ideas Come From: The Natural History of Innovation - Adventures in Entrepreneurship
Steven Johnson: 'Eureka moments are hard to come by'
13 Dec 2010
The surprising truth about what motivates us, with some possible game mechanics the cause motivation and engagement - Adventures in Entrepreneurship Encarta vs wikipedia which one do you use and which one is better? by langxchange Dec 12
Simple task: Do Y get X works!! Complicated task(Conceptual, creative thinking) Do Blah blah blah get x doesn't work. Money is a motivator but pay people enough to take money off the table. 3 Factors that lead to better performance and more personal satisfaction(and possible game mechanic principals) -Automony -Desire to be self-directed---->engagement ex. Atlassian "You probably want to do something cool, let me get out of your way." -Mastery -Urge to get better at stuff(maybe through collaboration) ex. open source projects -Purpose -Making a contribution, The yearning to do what we do in the service of something larger than ourselves by langxchange Dec 12
ROWE
ROWE - Results Only Work Environment is a human resource management strategy co-created by Jody Thompson and Cali Ressler [ 1 ] wherein employees are paid for results (output) rather than the number of hours worked . [ 2 ] Cali and Jody [1] , who originally proposed the strategy at Best Buy, have since started a consulting group called CultureRx. [ 1 ] [ 3 ] The strategy has subsequently been implemented at a second large American retailer, Gap ., [ 3 ] as well as the Girl Scouts of San Gorgino, J.A. Counter and Associates, and the Fairview Health Services I.T.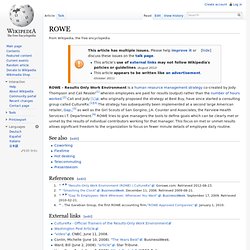 CultureRx and ROWE: Results-Only Work Environment Amy Jo Kim talk on Gaming Psychology - Adventures in Entrepreneurship
22 Nov 2010