Books
The Best 100 Opening Lines From Books. Chosen by: Clare Balding "It was the best of times, it was the worst of times, it was the age of wisdom, it was the age of foolishness, it was the epoch of belief, it was the epoch of incredulity, it was the season of Light, it was the season of Darkness, it was the spring of hope, it was the winter of despair, we had everything before us, we had nothing before us, we were all going direct to Heaven, we were all going direct the other way."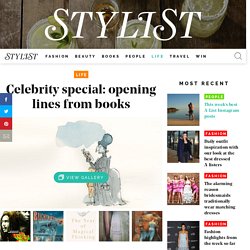 A Tale Of Two Cities, Charles Dickens. The 100 Best Books of All Time. The World Library is a list of the 100 best books, as proposed by one hundred writers from fifty-four different countries, compiled and organized in 2002 by the Norwegian Book Club.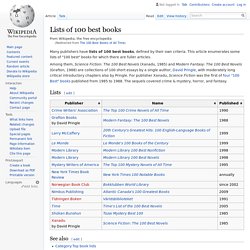 This list endeavours to reflect world literature, with books from all countries, cultures, and time periods. Eleven of the books included on the list are written by women, eighty-five are written by men and four have unknown authors. Each writer had to select his or her own list of ten books. The books selected by this process and listed here are not ranked or categorized in any way; the organizers have stated that "they are all on an equal footing," with the exception of Don Quixote which was given the distinction "best literary work ever written.
" The Monica Bird, Date a girl who reads. Date a girl who spends her... Full text books free to read online in the full text archive. Barnes & Noble - Books, Textbooks, eBooks, Toys, Games, DVDs and More. Share Book Recommendations With Your Friends, Join Book Clubs, Answer Trivia.
---