Learn from the Internet
The 101 Most Useful Websites on the Internet. 06 Apr 2014 The 101 Most Useful Websites on the Internet is a frequently updated list of lesser-known but wonderful websites and cool web apps. couch mode print story.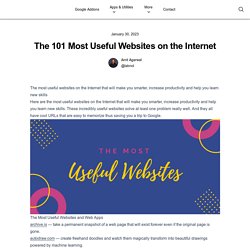 15 MORE Free Guides That Really Teach You USEFUL Stuff. During 2010, we've written a bunch of new PDF manuals for you, on all kinds of subjects, from Facebook privacy to Dropbox tips. After releasing 15 NEW manuals resulting in hundreds of thousands downloads we thought it was about time to look back and review them. If you're a long time reader you probably know that we did a similar roundup last year. Call number overview. Simon Sinek: How great leaders inspire action. Oliver Sacks: What hallucination reveals about our minds. Left vs Right (World) | David McCandless & Stefanie Posavec | Information Is Beautiful. TEDTalks as of 04.04.12. 100 Websites You Should Know and Use. Entertainment Meet David Peterson, who developed Dothraki for Game of Thrones There are seven different words in Dothraki for striking another person with a sword.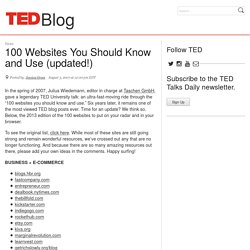 Among them: "hlizifikh," a wild but powerful strike; "hrakkarikh,"a quick and accurate strike; and "gezrikh," a fake-out or decoy strike. But you won't find these words in George R.
---
lalamosiah May 26 2012

This pearltree is not a a way of preaching to anybody. I am going to include thought and discussion from all sides in this tree, because I defend speech. At the same time, however, if I believe you are wrong, it is my duty and obligation to so state, and why I believe the way I do. I am all about civil discussion. Holler, use profanity, or attack the individual ends the discussion. All of those mean you are out of control. All of those mean you are unable to defend why you believe the way you do. All of those mean you need to reexamine why you believe as you do, and then change your belief system on this particular topic.
---