Marketing
Newspaper Works
Tale of the Junky Carrot
What do you do if you want to sell more carrots? One thing, apparently, is to begin viewing the world from a different perspective. Recently, Fast Company, published this insightful article describing how the creative team at Crispin (an advertising firm) helped BoltHouse Farms increase sales of its pre-cut baby carrots. How did they do this? I'll let you read the whole article but they began by questioning assumptions.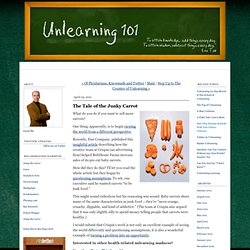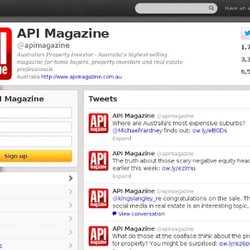 Have an account? Sign in New to Twitter? Join Today » Forgot password?
API Magazine Twitter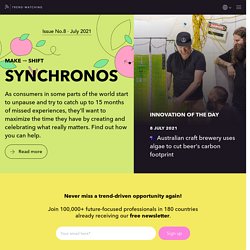 April 2014 Why consumers will embrace connected objects with a clear mission: to actively care for them. Read Now 250,000 subscribers and 1,200+ clients turn to trendwatching.com for global consumer trends, insights and related innovations. We rely on teams and representatives in London, São Paulo, Singapore, New York, Sydney and Lagos, and run a network of 2,600+ spotters in 100+ countries. Never miss a Free Trend Briefing again!
Mumbrella live blog: Thursday, April 17 This is Mumbrella's live blog, a rolling diary of all you need to know in media and marketing. Refresh the page for the latest updates. 5:24pm - There's always a late breaking piece of news before a public holiday, and today's is good for Ten, with the return of skilled news and sport presenter Matt White, presumably to head up the V8 Supercar coverage, but maybe for something slightly earlier… 4:20pm - One of the best yarns around today is on News.com.au – what kind of biscuit are you. It allows you to work out which Arnott's biscuit is your personality type.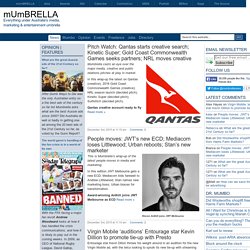 Custom Media - ThinkTank
Posted by Gordon Plutsky on Wed, Oct 03, 2012 Last week I enjoyed hearing from Erik Drake, EVP of Stoneyfield Farm Yogurt who was a guest speaker at the Ad Club's CMO Breakfast series . Stoneyfield is the leader in organic yogurt in addition to being a leader in the new model for consumer packaged goods customer engagement.