Marketing
Kickstarter. Newspaper Works.
Case Studies
Social Media. Tale of the Junky Carrot. What do you do if you want to sell more carrots?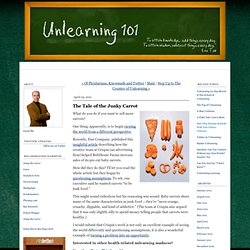 One thing, apparently, is to begin viewing the world from a different perspective. Recently, Fast Company, published this insightful article describing how the creative team at Crispin (an advertising firm) helped BoltHouse Farms increase sales of its pre-cut baby carrots. How did they do this? I'll let you read the whole article but they began by questioning assumptions. API Magazine Twitter. Trendwatching: Consumer trends/insights. mUmBRELLA. Custom Media - ThinkTank. Posted by Gordon Plutsky on Wed, Oct 03, 2012 Last week I enjoyed hearing from Erik Drake, EVP of Stoneyfield Farm Yogurt who was a guest speaker at the Ad Club's CMO Breakfast series .
Stoneyfield is the leader in organic yogurt in addition to being a leader in the new model for consumer packaged goods customer engagement.
---