Jelly
A WARM WELCOME to the UK Jelly website – where you can find out more about the co-working phenomenon that is Jelly, find out where your nearest Jelly event is, or get going with our 'starter pack' to create your own Jelly. Our aim – to bring home workers, freelancers, small business owners and entrepreneurs together in a relaxed, informal, working environment to maximise creativity and minimise the isolation that being your own boss can bring!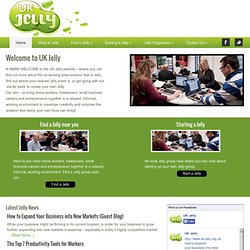 UK Jelly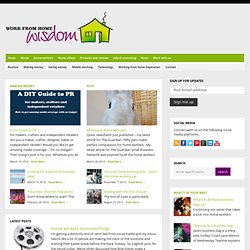 The Secrets of Home Working Success : Work from Home Wisdom
Fear not, Rosie Slosek of One Man Band Accounting can help. In today's guest post she explains how her new Toolkit gets your tax return done without trauma – but with cake! Not only that, there's also a special 20% discount for WfHW readers. Read on: Hi Rosie, tax paperwork is a closed book to many home workers, so please give us a brief idea about what you do. Hi Judy, I help self-employed home workers make their tax paperwork fun and easy, or at least as much as it's ever going to be! I believe in lots of little rewards and creating good associations so all those annoying bits of paper mean 'Oooh, treats' to your brain.
Your Say: The wonderful thing about Jelly…
Regular Enterprise Nation contributor Rickie Josen is a big fan of Jelly. No, not the wobbly stuff you eat with ice cream, but the loose co-working group for freelancers and homeworkers that meets in cafes, home, offices – and other locations – across the US and, increasingly, the UK. This is what Rickie has to say about the virtues of Jelly. I first encountered Jelly during a long stint in New York, thanks to EN's very own Emma Jones recommending it (she does a lot of that – Ed). All I knew about Jelly when I RSVPed to my first one was that it's about co-working for people who otherwise work alone, at home. When I came back to the UK, given that we have all moved towards home-working, portfolio careers and entrepreneurship - not to mention the more general acceptance of social media as a way of connecting - I was surprised Jelly wasn't already in a huge city like Birmingham.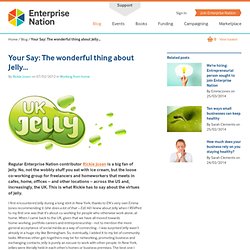 Coworking, café internet et location de bureau
CONNEXION S'INSCRIRE ENTREPRISES A PROPOS Comment ça marche? Ajoutez un espace Solution Entreprises Qui sommes-nous ? Quel type d'espace ? 1 personne Téléchargez l'appli iphone - androïd c'est gratuit ! Trouvez votre lieu idéal parmi la plus grande sélection d'espaces de travail dans toute la France (coworking, télécentres, café-wifi...)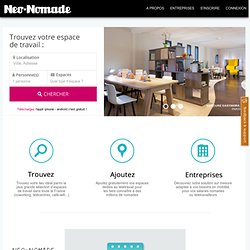 WORLDWIDE #JELLYWEEK 2012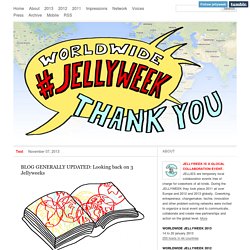 PROUDLY PRESENTED: Jellyweek Crew Part 1 / Leslie, Bert-Ola, Leila From 2nd to 9th of september the international Jellyweek Crew will gather for the first time at the JELLYWEEK SUMMER WORKCAMP in the south of France. It will be a very important moment for the Jellyweek movement, when people who mostly experienced together the first Worldwide Jellyweek in January 2012, but who didn't meet each other personnally before, will come together with their experiences, skills, energies for the first time to cocreate the next Jellyweek in January 2013.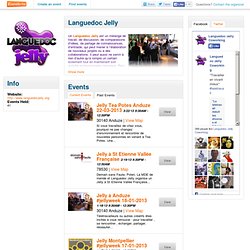 Languedoc Jelly - coworking events in Languedoc-Roussillon France
Un Languedoc Jelly est un mélange de travail, de discussion, de comparaisons d'idées, de partage de connaissances, d'entraide, qui peut mener à l'élaboration de nouveaux projets ou à des collaborations. Il peut aussi ne servir à rien d'autre qu'à rompre un certain isolement tout en maintenant son activité professionnelle classique. Pour participer, il suffit d'apporter son équipement de travail et de la bonne humeur. Les horaires sont libres. La connexion Wi-Fi est mise à disposition.
Jelly en France! Alors c'est quoi?
Jelly est le nom donné par ses fondateurs à un concept novateur de travail en commun. Ces initiatives permettent à des travailleurs indépendants ou des salariés télétravailleurs de se réunir ponctuellement pour exercer leur activité normale mais dans un cadre différent, propice à l'échange et à l'entraide. Ces rendez-vous sont l'occasion, pour les créateurs d'entreprises, les indépendants, les salariés autonomes, les dirigeants en exercice, de se rencontrer et de s'extraire de leur cadre de travail habituel.