Jelly
UK Jelly
The Secrets of Home Working Success : Work from Home Wisdom
Your Say: The wonderful thing about Jelly…
Regular Enterprise Nation contributor Rickie Josen is a big fan of Jelly. No, not the wobbly stuff you eat with ice cream, but the loose co-working group for freelancers and homeworkers that meets in cafes, home, offices – and other locations – across the US and, increasingly, the UK.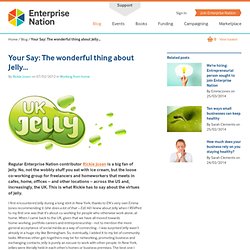 Coworking, café internet et location de bureau
WORLDWIDE #JELLYWEEK 2012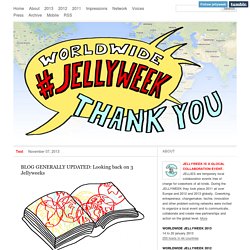 PROUDLY PRESENTED: Jellyweek Crew Part 1 / Leslie, Bert-Ola, Leila From 2nd to 9th of september the international Jellyweek Crew will gather for the first time at the JELLYWEEK SUMMER WORKCAMP in the south of France. It will be a very important moment for the Jellyweek movement, when people who mostly experienced together the first Worldwide Jellyweek in January 2012, but who didn't meet each other personnally before, will come together with their experiences, skills, energies for the first time to cocreate the next Jellyweek in January 2013.
Languedoc Jelly - coworking events in Languedoc-Roussillon France
Jelly en France! Alors c'est quoi?
Jelly est le nom donné par ses fondateurs à un concept novateur de travail en commun. Ces initiatives permettent à des travailleurs indépendants ou des salariés télétravailleurs de se réunir ponctuellement pour exercer leur activité normale mais dans un cadre différent, propice à l'échange et à l'entraide. Ces rendez-vous sont l'occasion, pour les créateurs d'entreprises, les indépendants, les salariés autonomes, les dirigeants en exercice, de se rencontrer et de s'extraire de leur cadre de travail habituel.