World
Chail, India : Highest cricket ground on the EarthBuilt in 1893 at an altitude of 2444 m above sea level by levelling the hilltop, this cricket ground is the worlds highest cricket ground. The ground was built by the Maharaja of Patiala, since no competitive cricket is being conducted here it does not appear in the Guiness records. Today, the ground is with Indian Military and is used by locals and the military. Sultan Qaboos Grands Mosque in Bausher, Sultanate of Oman :Largest Hand-woven Carpet and Chandelier on the EarthThe Sultan Qaboos Grand Mosque is the main Mosque in the Sultanate of Oman.
Google Earth Community: Extreme Series - Updated Everyday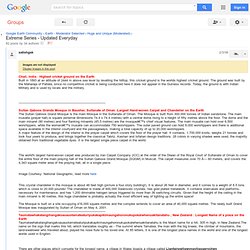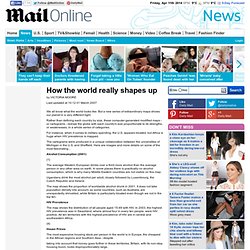 We all know what the world looks like. But a new series of extraordinary maps shows our planet in a very different light. Rather than defining each country by size, these computer-generated modified maps - or cartograms - redraw the globe with each country's size proportionate to its strengths, or weaknesses, in a whole series of categories. For instance, when it comes to military spending, the U.S. appears bloated, but Africa is huge when HIV prevalence is mapped. The cartograms were produced in a unique collaboration between the universities of Michigan in the U.S. and Sheffield. Here are images and more details on some of the most fascinating...
How the world really shapes up | the Daily Mail