Book
Structure and Interpretation of Computer Programs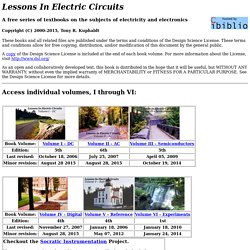 A free series of textbooks on the subjects of electricity and electronics Copyright (C) 2000-2013, Tony R. Kuphaldt These books and all related files are published under the terms and conditions of the Design Science License. These terms and conditions allow for free copying, distribution, and/or modification of this document by the general public. A copy of the Design Science License is included at the end of each book volume.
Today, interpreting data is a critical decision-making factor for businesses and organizations. If your job requires you to manage and analyze all kinds of data, turn to Head First Data Analysis, where you'll quickly learn how to collect and organize data, sort the distractions from the truth, find meaningful patterns, draw conclusions, predict the future, and present your findings to others. Whether you're a product developer researching the market viability of a new product or service, a marketing manager gauging or predicting the effectiveness of a campaign, a salesperson who needs data to support product presentations, or a lone entrepreneur responsible for all of these data-intensive functions and more, the unique approach in Head First Data Analysis is by far the most efficient way to learn what you need to know to convert raw data into a vital business tool.
Google Apps Hacks: Philipp Lenssen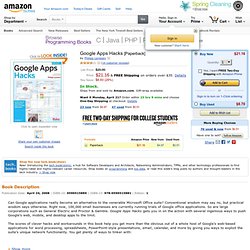 Koha Intranet Home
Today, I would like to share with everyone free Ubuntu Linux books which I have found on the Net some days ago. Publisher: Addison-Wesley ProfessionalLanguage: EnglishPaperback: 496 pagesData: August 17, 2006Description: Discover Ubuntu, Today's Hottest Linux Everyone's talking about Ubuntu—it's not just 100% free, it's the most useful, practical desktop Linux ever! Now, Linux expert Marcel Gagné reveals Ubuntu's amazing power and helps you migrate from Windows faster than you ever thought possible.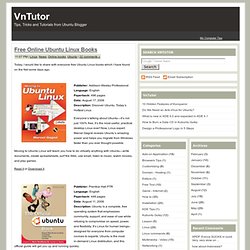 Free Online Ubuntu Linux Books
Ubuntu Linux Bible « eBookSpyder
Online Computer Science Books
Here are the 16 chapters and 91 essays that make up the book. Introduction chapter 1 What is Getting Real?A smaller, faster, better way to build software About 37signalsOur small team creates simple, focused software Caveats, disclaimers, and other preemptive strikesResponses to some complaints we hear