Art Blog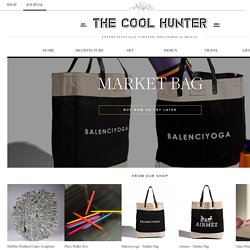 More than 400 invited guests attended the opening event of The Art Hunter in Sydney on Tuesday night. The Art Hunter launch is a collaboration between The Cool Hunter and Jaguar, and the opening night was also the Australian debut of the spectacular Jaguar C-X17 concept car. To present The Art Hunter, we engaged our dream team of collaborators, led by the incomparable Natalie Longeon and Peter Pengly from The Artistry (they designed and executed our Summer Lovers Rotate store as well), to transform a 500 m2 warehouse in Alexandria into a genuinely exciting, temporary three-week art exhibition experience. The Art Hunter is not a white-walled space where you quietly walk past pieces of art. Instead, it is an eclectic and vibrant environment where every wall is a different color (by our paint sponsor Taubmans), where there is no natural light and where the work of more than 40 artists, curated by us, is not only on display but also for sale.
Milagro :: PR Atelier
At the eve of passing into a new decade, Martine invited her closest friends to an unforgettable long weekend. Their diary, as reported in popular website Notable.ca here. Un long weekend inoubliable avec ses potes mérite un billet dans le populaire site Notable.ca, ici.