Cookies
Cookie dough truffles « Oh baby.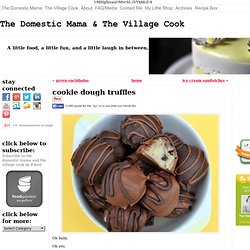 Oh yes. You can have your dough and eat it too. No raw eggs here. Sugar cookie dough truffles « Lately, I have been dreaming up a bunch of new recipes, only to realize that in order to make them, it requires a trip to the store.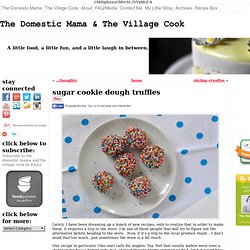 I'm one of those people that will try to figure out the alternative before heading to the store. Now, if it's a trip to the local produce stand… I don't mind that too much…just sometimes the store is a bit much. One recipe in particular (this one) calls for staples. Yay. Not that vanilla wafers were ever a staple in my house before kids..but, at least they're pretty common to find. Cream Cheese Chocolate Chip Cookies « Betchacanteatjustone's Blog. This just may be my new favorite Chocolate Chip Cookie.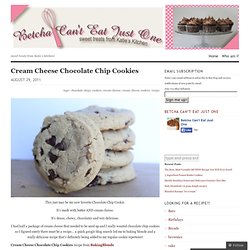 It's made with butter AND cream cheese. It's dense, chewy, chocolatey and very delicious. I had half a package of cream cheese that needed to be used up and I really wanted chocolate chip cookies so I figured surely there must be a recipe… a quick google blog search led me to baking blonde and a really delicious recipe that's definitely being added to my regular cookie repertoire! Cream Cheese Chocolate Chip Cookies recipe from BakingBlonde 4 oz cream cheese, softened (recipe called for 5-6 but I only had 4)3/4 cup unsalted butter, melted and cooled1 cup brown sugar1/2 cup granulated sugar2 tsp vanilla extract1/2 tsp baking soda1/2 tsp salt2 cups plus 3 tbsp all purpose flour1 1/2 cups semi sweet chocolate chips.
OATMEAL, CHERRY, TOFFEE NUT COOKIES. If I could only post ONE COOKIE on this blog, it would be this cookie!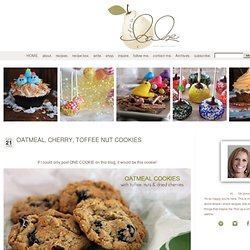 . . . Old pictures. Graham Cracker S'mores Cookies. Graham Cracker S'mores Cookies Graham Cracker S'mores Cookies with a graham cracker base, topped with a chocolate chip marshmallow cookie and chopped Hershey's bars on top.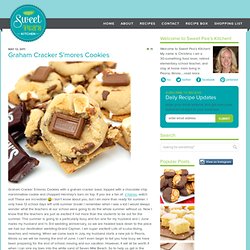 If you are a fan of s'mores, watch out! These are incredible! Mint Chocolate Chip Cookies Recipe. Candy Bar Chocolate Chip Cookie Sandwiches. Candy Bar Cookies?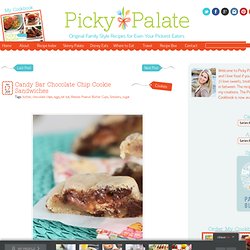 Have I gone mad? Well, no but was craving some chocolate….sorry for those of you who are so good and still dieting I used the same technique I've been using with those giant Oreo Stuffed Cookies and am just loving it. Big Soft Ginger Cookies Recipe. Eatingwelllivingthin.wordpress.com. Chocolate, Peanut Butter, & Oatmeal Cookies « Dinner & Dessert. Posted on July 8, 2009 by Erin Let me start off by saying that these cookies are pure genuis.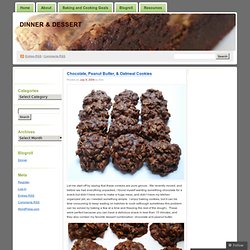 We recently moved, and before we had everything unpacked, I found myself wanting something chocolate for a snack but didn't have room to make a huge mess, and didn't have my kitchen organized yet, so I needed something simple. I enjoy baking cookies, but it can be time consuming to keep waiting on batches to cook (although sometimes this problem can be solved by baking a few at a time and freezing the rest of the dough). These were perfect because you can have a delicious snack in less than 15 minutes, and they also contain my favorite dessert combination: chocolate and peanut butter. The ingredients and instructions in these are simple: butter, sugar, milk, and cocoa are boiled in a pot, then you remove the pot from the heat and add in the peanut butter, vanilla, and oats. Sneaky Snickers Cookies. Inside each one of these mildly peanut butter flavored cookies is a gooey surprise.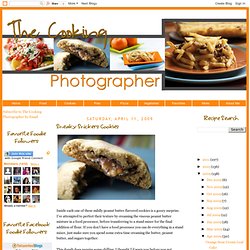 I've attempted to perfect their texture by creaming the viscous peanut butter mixture in a food processor, before transferring to a stand mixer for the final addition of flour. If you don't have a food processor you can do everything in a stand mixer, just make sure you spend some extra time creaming the butter, peanut butter, and sugars together.
This dough does require some chilling. I thought I'd warn you before you got started.Ingredients1 cup unsalted butter, softened (2 sticks)1 cup creamy peanut butter (Jiff)1 cup granulated sugar1 cup dark brown sugar1/2 teaspoon salt1 Tablespoon real vanilla extract2 eggs1 teaspoon baking soda3 1/2 cups all-purpose flour2 (11.5 ounce) bags Snickers Miniatures (Half a bag is for snacking during cooking making.) Felix K.'s 'Don't even try to say these aren't the best you've ever eaten, because they are' Chocolate Chip Cookies Recipe.
---