Cake
How to Make a Vertical Layer Cake. My sister is visiting me this week.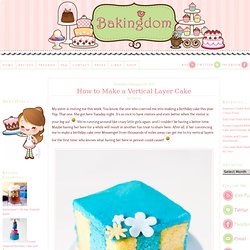 You know, the one who coerced me into making a birthday cake this year. Yep. That one. She got here Tuesday night. Baba's Lady Baltimore Cake… This is a very special, nostalgic cake for my family.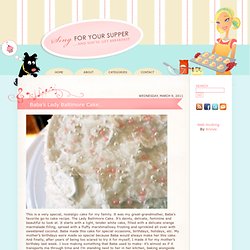 It was my great-grandmother, Baba's favorite go-to cake recipe. The Lady Baltimore Cake. It's dainty, delicate, feminine and beautiful to look at. Eat Cake For Dinner. Bake It in a Cake. Bake It in a Cake • Bake a Heart in a Cake! Pink Heart–Filled Cupcakes with Strawberry Taffy Frosting These vanilla bean cupcakes really have heart.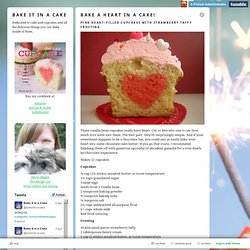 Cut or bite into one to see how much love went into them. The best part: they're surprisingly simple. And if your sweetheart happens to be a chocolate fan, you could just as easily bake your heart into some chocolate cake batter. If you go that route, I recommend finishing them off with generous spoonful of decadent ganache for a true death-by-chocolate experience. Heaven and Hell Cake. Enlarge Credit: André Baranowski FOR THE GANACHE:2 lbs. milk chocolate, such as Valrhona, chopped1 1/2 cups heavy cream FOR THE ANGEL FOOD CAKE:1 1/2 cups confectioners' sugar1 cup cake flour1 1/2 cups egg whites1 tsp. cream of tartar1/8 tsp. kosher salt1 cup sugar2 tsp. vanilla1 tsp. almond extract FOR THE DEVIL'S FOOD CAKE:1/2 cup vegetable shortening, plus more for pan1 1/2 cups cake flour, plus more for pan1 tsp. baking soda3/4 tsp. kosher salt1/4 tsp. baking powder1 cup coffee1/2 cup cocoa powder, sifted1 1/2 cups sugar1 tsp. vanilla2 eggs FOR THE PEANUT BUTTER MOUSSE:1 1/2 lbs. cream cheese, at room temperature4 cups smooth peanut butter, at room temperature3 1/2 cups confectioners' sugar, sifted1 1/2 cups heavy cream 1.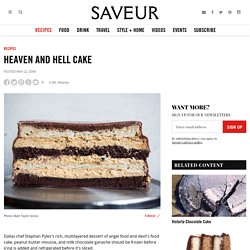 Makes » recipe: ice cream cake (but not like you think) If you've been following along, you're probably aware that I collect cookbooks.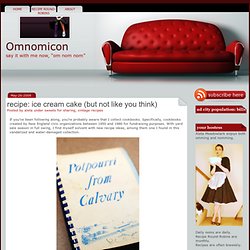 Specifically, cookbooks created by New England civic organizations between 1950 and 1980 for fundraising purposes. With yard sale season in full swing, I find myself solvent with new recipe ideas, among them one I found in this vandalized and water-damaged collection. Ikura Sushi Birthday Cake | Recipe | Cut Out. Guinness and Baileys Irish cupcakes | Irish Food and Irish Drink.
Guinness and Bailey's Irish Cream cupcakes - great for St.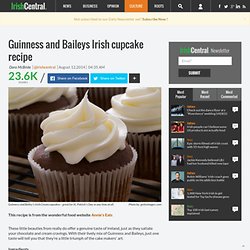 Patrick's Day or any time at all. Photo by: gettyimages.com This recipe is from the wonderful food website Annie's Eats.
---