Breakfast
(serves 2) 2 Tbs butter 2 eggs 1/2 cup milk 1/2 cup flour pinch of salt 2 Tbs brown sugar 1/4 tsp cinnamon 1 apple, peeled, cored, and thinly sliced Preheat the oven to 400. Melt the butter in a pie pan in the oven as it's heating and swirl it around to coat the edges.
Apple Puff Pancake Recipe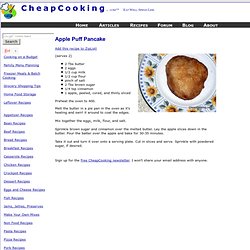 Breakfast Burrito Recipe, Freezer Meals
For a quick grab-and-go breakfast, make up your own breakfast burritos and freeze them. We like ours with just fried potatoes, scrambled eggs, and cheese, but you could easily add cooked bacon or sausage. 12 flour tortillas 6 eggs, scrambled 6 potatoes, diced and fried grated cheese cooked and diced bacon or sausage (optional) salsa (optional) Scramble the eggs the way you normally would and cook up the potatoes.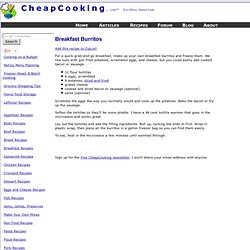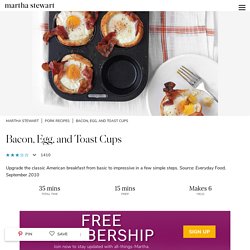 Upgrade the classic American breakfast from basic to impressive in a few simple steps. Bacon, Egg & Cheese Cups A meal from a muffin pan? It's true! Everyday Food editor Sarah Carey shows you how to make these adorable dishes that can be served for dinner or brunch.
Bacon Pancakes! — The Adventures of Accordion Guy in the 21st Century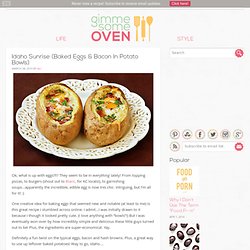 Ok, what is up with eggs?!!? They seem to be in everything lately! From topping pizzas, to burgers (shout out to Blanc , for KC locals!), to garnishing soups…apparently the incredible, edible egg is now tres chic.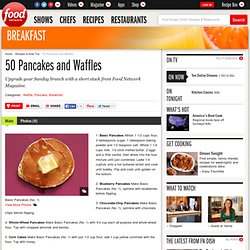 1. Basic Pancakes Whisk 1 1/2 cups flour, 3 tablespoons sugar, 1 tablespoon baking powder and 1/2 teaspoon salt. Whisk 1 1/4 cups milk, 1/2 stick melted butter,2 eggs and a little vanilla, then whisk into the flour mixture until just combined.
The original and unique Cinnamon Roll Pancake recipe created by Robin Sue! M y little Deven loves pancakes and wants me to make them all the time, but I don't often enough. Late last night my friend had spotted this Cinnamon Bun Pancake Recipe from the blogisphere and posted it on her Facebook status suggesting for her daughter to make them. Wow, Cinnamon Bun Pancakes, that would be a winner in my house too.