Dictionaries
welcome n. the state of being welcome; "don't outstay your welcome" n. a greeting or reception; "the proposal got a warm welcome" v. receive someone, as into one's house v. accept gladly; "I welcome your proposals" There are no items for this category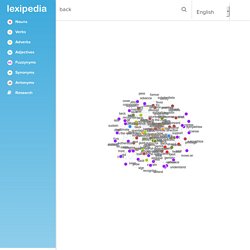 Visuwords™ online graphical dictionary — Look up words to find their meanings and associations with other words and concepts. Produce diagrams reminiscent of a neural net. Learn how words associate. Enter words into the search box to look them up or double-click a node to expand the tree.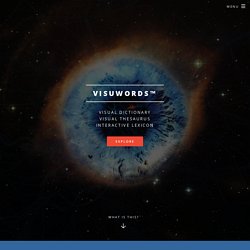 Portail lexical : un ensemble de ressources et de données Les lexiques et dictionnaires sont intégrés au sein d'un portail lexical unique qui permet leur consultation croisée ainsi qu'un export dans un format normalisé (LMF, ISO-24613). Projet évolutif, le portail lexical a pour vocation de fédérer, de valoriser et de partager, en priorité avec la communauté scientifique, un ensemble de données issues des travaux de recherche sur les lexiques. Ressources Le CNRTL propose et documente des corpus librement accessibles dont les corpus Frantext libre de droits et DEDE (DEscriptions DEfinies). Progressivement, les données sont converties en TEI et enrichies par des annotations linguistiques.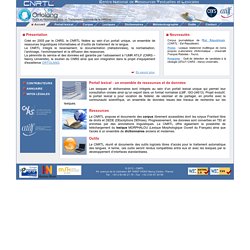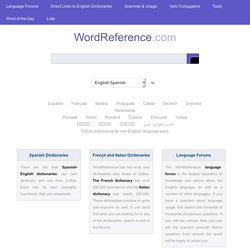 Spanish Dictionaries There are two free Spanish-English dictionaries: our very own dictionary and one from Collins. Each has its own strengths. Combined, they are unbeatable. French and Italian Dictionaries
Avant-propos Les pages du dictionnaire sensagent.com sont le fruit d'un travail de plus de 20 ans. Les 17 millions d'index de ce dictionnaire sont issus d'un projet intitulé 'Dictionnaire Intégral'. Le titre de ce projet signifie que le Dictionnaire sensagent cherche à emprunter la plupart des voies populaires ou théoriques existant pour décrire le lexique d'une langue.