Beauty/Appearances/Genetics/Fashion
Threadless graphic t-shirt designs; cool & funny t-shirts weekly! Tees designed by the community. TIPPED OUT - thebeautydepartment.com - StumbleUpon. All photos: Kristin Ess + thebeautydepartment.com post designed by kristin ess Lots of emails this week asking for a tutorial on Lauren's temporary bright colors.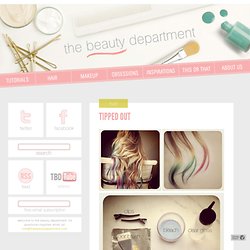 Here I've replicated the process for you in 7 steps on an extension. While I never recommend bleaching out the ends of your hair at home, if you want to do the fun colors yourself, maybe get the tips bleached out by a pro + then play with the temporary colors on your own. The best things about this color– you're able to hide it in a bun for work if you need to, AND you're only doing a couple of inches on the bottom so it won't kill you to cut it off if you get over it quickly. TOOLS: highlighting comb, clips, foils, color brush, hair bleach with the appropriate volume (always seek a professional when using bleach), light pink color, dark pink color, light blue, dark blue, clear gloss. Cute and Warm Winter Boots in Suede, Leather and more - iVillage. Make a Dress from a Button-Down Shirt - StumbleUpon. If you don't already have an old shirt you can recycle for this purpose, you should be able to find one easily at a thrift store.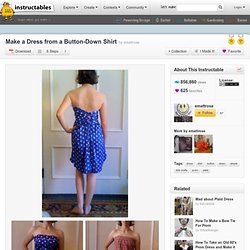 Hold the collar under your arms, and make sure it's long enough that you'll be comfortable wearing it as a dress. Short sleeves are ok, but make sure they're long to reach around your chest and overlap in the back. Also, try and find a shirt that has darts in the middle of the back. If the darts are at the shoulders, it won't fit as well. It seems like women's shirts mostly have darts in the middle, and men's shirts have darts at the shoulders. T-Shirts :: the mental_floss store - StumbleUpon. Average Faces From Around The World - StumbleUpon.
Your Spot For Indie Clothing & Indie Urban Culture.
---