Art design creation mode
Very cool stuff about art, design, fashion, creation of many kinds Dec 28
LOUIS-XAVIER LE BRON
Protein® is good for you
Empreintes Digitales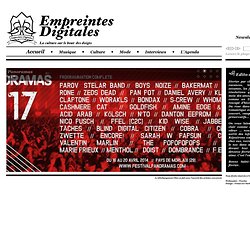 Alors que les pendules ont été remises à l'heure, et que les bonnes habitudes ont été reprises, l'on sentirait presque l'odeur de la routine nous piquer le nez. Pour autant l'automne apporte toujours son lot de nouveautés et d'anticipation, chacun vibre au rythme d'une vie effrénée et n'a de cesse de fusionner ses projets satisfaisants au plaisir productif, mixer vie professionnelle et hobbies intelligents. Aussi, le monde de la nuit bouillonne, tandis que l'univers artistique grouille d'idées et que la planète mode reste en éveil. En effet, la Fashion Week s'achève et donne le ton, cette année encore il faudra être à l'affût, et déjà réactif à la prochaine saison.
Home
Platform Showcase
LOUIS-XAVIER LE BRON
mode | modemonline.com
the satirialist | Le premier contre-blog mode. De la fashion, du people et de la branchitude sans langue de bois (ni pages de pub)
Protein® is good for you
\\\ARTE:ZINE///
Studio Roosegaarde — Projects
Tim Meara | Film Director
Andrea Mary Marshall
unnamed pearl
MASKARA : Sandrine Pelletier
Novembre Magazine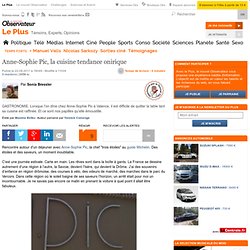 Rencontre autour d'un déjeuner avec Anne-Sophie Pic, la chef "trois étoiles" au guide Michelin. Des étoiles et des saveurs, un moment inoubliable. C'est une journée estivale. Carte en main.
Anne-Sophie Pic, la cuisine tendance onirique
romainlecam.blogspot
Sharing the Art of Living Well
Dès 2002, Olivier Py était candidat à la direction du Festival d'Avignon, et c'est dans les pages de Mouvement qu'il s'exprimait. Aujourd'hui : à peine nommé, ne devrait-il pas remettre sa démission ? Par Jean-Marc Adolphepublié le 27 avr. 2011 Le ministère de la Culture, habituellement si prompt… à prendre son temps et à ne pas répondre aux situations d'urgence que rencontre de plus en plus souvent la vie artistique et culturelle de ce pays, a soudain découvert dans les souterrains un accélérateur de particules, et l'a aussitôt mis en œuvre sans avoir lu attentivement le mode d'emploi. (...)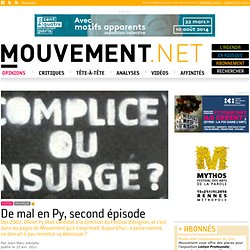 De mal en Py, second épisode - Frédéric MITTERRAND, Olivier PY
By the way...
Art-Mode-Design.com
Agent 002 - Agent d'illustrateurs
IRIS HATZFELD