Art design creation mode
Very cool stuff about art, design, fashion, creation of many kinds
Modemonline. LOUIS-XAVIER LE BRON. Journal. NEWS 14 April 2014, 5.23 | - POSTED BY Kitsuné Maison Kitsuné is pleased to announce the renewal of their collaboration with the talented Parisian stylist and lingerie designer, Yasmine Eslami.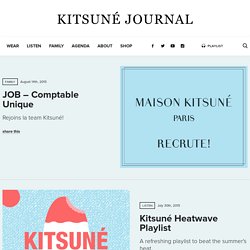 Inspired by Paris in the 70s, this lingerie capsule collection uses fluidity and transparency, combin... NEWS 10 April 2014, 10.00 | - POSTED BY Kitsuné Just in a week time, we were glad to announce the release of both Beataucue's "Kyllan" and Shinichi Osawa's "Breaking Through The Night" EPs. Protein® is good for you. Empreintes Digitales. Février par ci, février par là.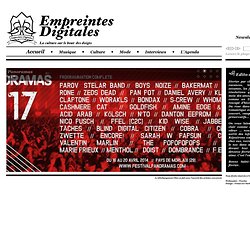 Le ski, les vacances, les balades. L'année est entamée, les jours qui s'additionnent, les résolutions qui s'abandonnent, c'est le mois des amours. Le ciel gribouillé de bleu comme un livre de coloriage. Home. Platform Showcase. LOUIS-XAVIER LE BRON. Hype Ain't Sh*t. Mode | modemonline.com. Interview Magazine. The satirialist | Le premier contre-blog mode. De la fashion, du people et de la branchitude sans langue de bois (ni pages de pub) Protein® is good for you. Icon magazine online | the most comprehensive archives of architecture and design content on the web. \\\ARTE:ZINE/// Projects. Satellite Voices. Tim Meara | Film Director. Andrea Mary Marshall. Untitled. MASKARA : Sandrine Pelletier. Novembre Magazine. Yatzer™ Anne-Sophie Pic, la cuisine tendance onirique. Rencontre autour d'un déjeuner avec Anne-Sophie Pic, la chef "trois étoiles" au guide Michelin.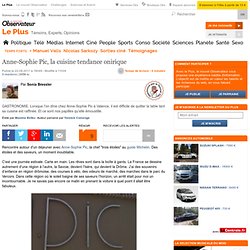 Des étoiles et des saveurs, un moment inoubliable. C'est une journée estivale. Carte en main. La boite verte : Blog sur la Photographie, la Technologie, les Geeks, le Design, l'Art, la Science, des Vidéos ... Romainlecam.blogspot. Dazed & Confused Magazine | Fashion, Art, Fashion, Music, Film, Ideas. Sharing the Art of Living Well. De mal en Py, second épisode - Frédéric MITTERRAND, Olivier PY. Dès 2002, Olivier Py était candidat à la direction du Festival d'Avignon, et c'est dans les pages de Mouvement qu'il s'exprimait.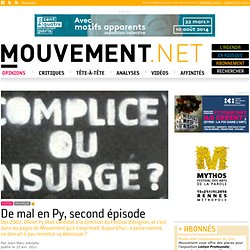 Aujourd'hui : à peine nommé, ne devrait-il pas remettre sa démission ? Par Jean-Marc Adolphepublié le 27 avr. 2011 Le ministère de la Culture, habituellement si prompt… à prendre son temps et à ne pas répondre aux situations d'urgence que rencontre de plus en plus souvent la vie artistique et culturelle de ce pays, a soudain découvert dans les souterrains un accélérateur de particules, et l'a aussitôt mis en œuvre sans avoir lu attentivement le mode d'emploi. (...)
By the way... Art-Mode-Design.com. Garance Doré. Magazine mode, beauté, joaillerie, défilés, culture, sorties, votre magazine mode Vogue.fr. The Sartorialist. Sang Bleu. Agent 002 - Agent d'illustrateurs. IRIS HATZFELD. Modemonline.
---