Ancient civlizations
Egypt's Golden Empire. Home. Maya civilization. Ancient Persian civilisations.
Mayan civilisation
Read an Ancient Jewish Scroll. By Peter Tyson Posted 11.23.04 NOVA One of the most spectacular finds in Israel's Cave of Letters, as reported in NOVA's "Ancient Refuge in the Holy Land," was a packet of personal documents that belonged to a young Jewish woman named Babatha.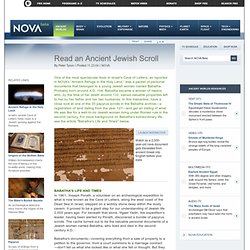 Probably born around A.D. 104, Babatha became a woman of means who, by the time of her death around 132, owned valuable properties left to her by her father and her two husbands. In this interactive, have a close look at one of the 35 papyrus scrolls in the Babatha archive—a registration of land dating from the year 127—and get an inkling of what life was like for a well-to-do Jewish woman living under Roman rule in the second century. For more background on Babatha's extraordinary life, see the article "Babatha's Life and Times" below. Launch Interactive. Welcome to The Ancient Web - The Ancient World's Great Civilizations.
Mesoamerica. Tip: Press ctrl and F (or Command and F on a Mac) to perform a keyword search of this page.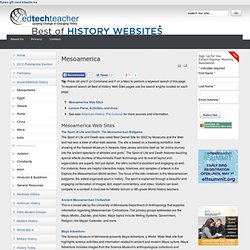 To keyword search all Best of History Web Sites pages use the search engine located on each page. Mesoamerica Web Sites The Sport of Life and Death: The Mesoamerican Ballgame The Sport of Life and Death was voted Best Overall Site for 2002 by Museums and the Web and has won a slew of other web awards. The site is based on a traveling exhibition now showing at the Newark Museum in Newark, New Jersey and bills itself as "an online journey into the ancient spectacle of athletes and gods. " The Sport of Life and Death features dazzling special effects courtesy of Macromedia Flash technology and its overall layout and organization are superb.
---