Big ideas
Dehydrating Intro « Viggies Veggies. Several people have asked me about dehydrating in the last week or two, so thought I'd do a little write up about it.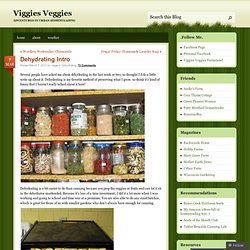 Dehydrating is my favorite method of preserving what I grow, so think it's kind of funny that I haven't really talked about it here! Dehydrating is a bit easier to do than canning because you prep the veggies or fruits and can let it sit in the dehydrator unattended. Four African Teenage Girls Create a Pee-Powered Generator | Living on GOOD. In the past week or so since Hurricane Sandy devastated a large portion of the East Coast, we've seen people get creative about ways to harness power.
From sharing outlets on the street , to using bikes as generators , people have come up with innovative ways to charge their cell phones and other items necessary for everyday life. While these ideas were resourceful, none of them are nearly as outside-the-box as what four African teenage girls came up with: a pee-powered generator. During the Maker Faire Africa , in Lagos, Nigeria on November 5 and 6, 14-year-olds Duro-Aina Adebola, Akindele Abiola, Faleke Oluwatoyin, and 15-year-old Bello Eniola presented their unique proposal. According to The Next Web , here's how it works: Eco Bath by Jang Woo-seok. Use Your Water Twice It goes in the sink, then it goes in the toilet.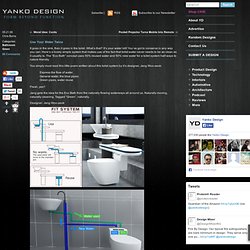 What's that? It's your water bill! You've got to conserve in any way you can. Here's a lovely simple system that makes use of the fact that toilet water never needs to be as clean as it usually is. The World's First Vertical Forest Is Growing Sky High. Did you know that Milan is one of the most polluted cities in Italy?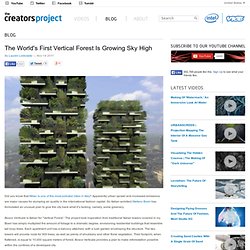 Apparently urban sprawl and increased emissions are major causes for slumping air quality in the international fashion capital. So Italian architect Stefano Boeri has formulated an unusual plan to give the city back what it's lacking: namely, some greenery. Home Solar Power Batteries in Development - Sharp, Others Pushing Battery Technology. The Man Who Moved a Mountain. Illinois Boy Wins $1,000, Donates Money to Neighbor Fighting Leukemia.
Forget toys and video games.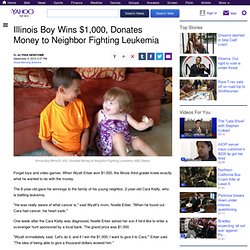 When Wyatt Erber won $1,000, the Illinois third-grader knew exactly what he wanted to do with the money. The 8-year-old gave his winnings to the family of his young neighbor, 2-year-old Cara Kielty, who is battling leukemia. "He was really aware of what cancer is," said Wyatt's mom, Noelle Erber. If you're a pub and you do this, I love you | HealthRiD. ECOoler tile screen for analog air conditioning by Mey kahn and Boaz Kahn. Analog Cooling of Interior Spaces How would you like to be able to cool your house (assuming you live in a part of the world where it gets hot enough to need cooling) without the use of electricity at all, whatsoever?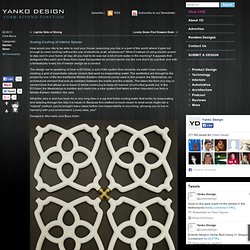 What if instead of using electric power to stay cool in your home all day, all you had to do was run a bit of cold water in the morning? It appears that designers Mey kahn and Boaz Kahn have transported an ancient secret into the now that'll do just that, and with a fantastically lovely bit of interior design as a conduit. The Leopold adds solar panels on roof of historic building  | BBJ Today. One of downtown Bellingham's most historic buildings has made a modern move by installing a solar panel system.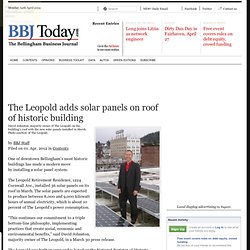 The Leopold Retirement Residence, 1224 Cornwall Ave., installed 36 solar panels on its roof in March. The solar panels are expected to produce between 8,000 and 9,000 kilowatt hours of annual electricity, which is about 10 percent of The Leopold's power consumption. Funny monkey experiment. The City Repair Project - Non-Profit Organization - Portland, OR. EPA Releases Interactive Map of Facilities Guilty of Eco-Crimes. Image via EPA The EPA has released a new interactive map that lays out the locations of facilities across the US that have violated environmental laws, been caught by the EPA, and subjected to enforcement actions.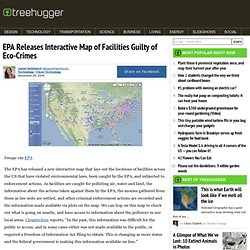 As facilities are caught for polluting air, water and land, the information about the actions taken against them by the EPA, the monies gathered from them as law suits are settled, and other criminal enforcement actions are recorded and the information made available via plots on the map. We can hop on this map to check out what is going on nearby, and have access to information about the polluters in our local areas. Cleantechies reports, "In the past, this information was difficult for the public to access, and in some cases either was not made available to the public, or required a Freedom of Information Act filing to obtain. This is changing as more states and the federal government is making this information available on line. " Long Island City lab on cutting edge of urban farming with aquaponic system  Christie Farriella for New York Daily News Rael Clarke works in his aquaponics lab in Long Island City where he grows heirloom vegetables and tilapia using a water-based system.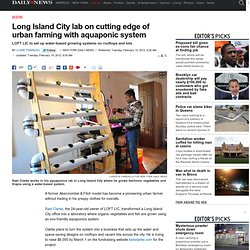 A former Abercrombie & Fitch model has become a pioneering urban farmer without trading in his preppy clothes for overalls. Rael Clarke, the 24-year-old owner of LOFT LIC, transformed a Long Island City office into a laboratory where organic vegetables and fish are grown using an eco-friendly aquaponics system. Clarke plans to turn the system into a business that sets up the water and space-saving designs on rooftops and vacant lots across the city. Moss graffiti making tips. Why we should teach philosophy to kids. Via the BPS Research Digest: A recent study on the long-term benefits of the Socratic method.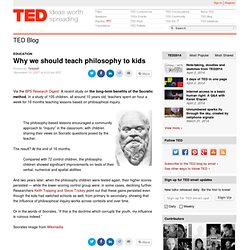 In a study of 105 children, all around 10 years old, teachers spent an hour a week for 16 months teaching lessons based on philosophical inquiry. The philosophy-based lessons encouraged a community approach to "inquiry" in the classroom, with children sharing their views on Socratic questions posed by the teacher. The result? Turn-Toaster-Sideways-Get-Grilled-Cheese.jpg (JPEG Image, 500x414 pixels) Ultimate Vertical Hydroponic Farm on the Cheap.. Gift away green crops! *** for more info and pictures please visit my blog at Ok guys i apologize for the crappy instructable .. i kinda rushed it in order to make it to the gift contest... i obviously lost that one.. so i'm coming back to fix this one... maybe i can do better in the Shopbot contest :) Ok originally i said a lot of things about a concept.. i wrote a blog while building this and i reused the stuff i wrote back then.. of course this is no longer a concept.. i fixed it into almost a final design.. i'm going back and cleaning this up so if i left concept or past tense stuff please forgive me..
Looks like i lost all of the contests i entered and i'm not elegible for the gardening contest going on right now.. Tech. According to the World Health Organization, about 20 percent of the world's people live in regions that don't have enough water for their needs. With the global population increasing by 80 million each year, a third of the planet will likely face water shortages by 2025. This looming water crisis is inextricably linked to food production because agriculture accounts for 70 percent of all fresh water used, and obtaining irrigation water in arid regions has serious environmental impacts. Drilling wells can deplete groundwater, and desalination is energy-intensive and leaves behind concentrated brine.
The Seawater Greenhouse, however, provides what may be an economical and sustainable way of producing fresh water and crops in hot, dry regions near the ocean. Kentucky man buys Kmart inventory, gives it all away | The Upshot. A Kentucky man purchased every last bit of inventory from a Kmart store that was two days away from shutting its doors. But he didn't keep the stuff for himself. Rankin Paynter gave it all way to a local charity. Paynter spent a total of $200,000 to buy the goods, which ranged from clothes to office supplies. According to a video from WHDH Boston, Paynter was buying supplies for his business when the idea hit. Paynter asked the cashier what they planned to do with the store's inventory when it closed down.
LOOK: Guerilla Gardening with Pocket Change - Cities. Live Green - Ditch the Traditional Planter and Hang Your Plants Like Artwork!
---