Thailand
Thai 101 - Greetings - Level One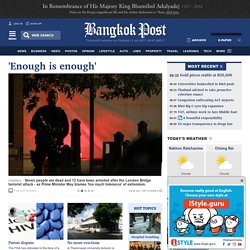 King Prajadhipok MuseumThe museum has exhibits that include personal articles belonging to H....Worlddidac Asia 2011Worlddidac Asia 2011 is an exhibition/event that connects 1,200 intern...Dusit ZooDusit Zoo is located at Khao Din Park in Bangkok next to the Parliamen...Baan SansiriA 24-storey residential condominium in the central business district o...Phuket FantaSeaPhuket FantaSea is a140-acre cultural theme park and show venue locate...Jim Thompson FarmThe Jim Thompson farm tours provides a unique opportunity for visitors...Lom ChoeyThe only provincial eatery to make it to this year's gastronomic top l...Major Cineplex - Sukhumvit - EkamaiMajor Cineplex - Sukhumvit - Ekamai is an 8-screen movie theatre compl...Concordian International SchoolScholarships for students entering G10-G11 IB Programs available now. ...The SukosolEnjoy the festive season with your loved ones in fabulous style at The...Big C Supercenter Presents Disney On Ice!
A tank made of Renminbi banknotes is.. A tank made of Renminbi banknotes is part of a large installation by Chinese artist Xu Zhen (born 1977) in a major show at the Ullens Center for Contemporary Art in Beijing, China, 21 January 2014... Economists from South Korea and Japan.. Economists from South Korea and Japan explain the problems their high-income countries experience and the solutions their governments come up with in the second day of the seminar "The End of..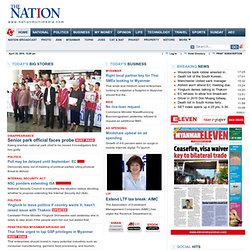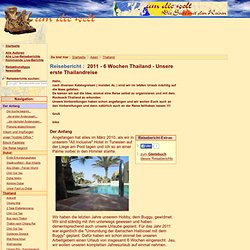 Hallo, nach diversen Katalogreisen ( meisten AL ) sind wir im letzten Urlaub mächtig auf die Nase gefallen. Da kamen wir auf die Idee, einmal eine Reise selbst zu organisieren und mit dem Rucksack Thailand zu erkunden. Unsere Vorbereitungen haben schon angefangen und wir wollen Euch auch an den Vorbereitungen und dann natürlich auch an der Reise teilhaben lassen !!!! Gruß bibo
Thailand-Reisebericht: "Der Anfang"
Thai Travel News by Paknam Web | Explore Thailand with Travel Blogger Richard Barrow
Thai Fiction in Translation
ART HISTORY RESOURCES ON THE WEB: Art in Southeast Asia
... more from my memoir from a dozen years ago about my brief time in the monastery ... Day Four: The Begging Bowl My attempts at sleep meditation do not seem to have borne fruit.
Somtow's World
Zashnain @bedlamfury
Written from heart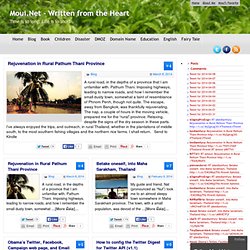 A rural road, in the depths of a province that I am unfamiliar with. Pathum Thani. Imposing highways, leading to narrow roads, and how I remember the small dusty town, somewhat a taint of resemblance of Phnom Penh, though not quite. The escape, away from Bangkok, was thankfully rejuvenating. The nap, a couple of hours in the moving vehicle, prepared me for the "rural" province. Relaxing, despite the signs of the dry season in these parts.
This week, Jotman's Fox News Award* goes to CNN for its special investigation into something called "food stamp fraud." Essentially, that's when impoverished Americans use their food stamps (these days a government-issued debit card) to pay for stuff that's not food-related groceries. Some people use the cards to buy cigarettes, alcohol and — according to the CNN report -- condoms. (Can't have the government making it possible for poor Americans to practice birth control!). The grocery store sometimes gets a kick-back for misuse of the card.
Thailand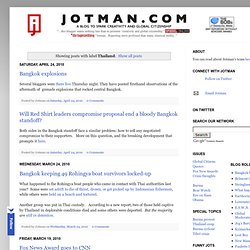 Koh Talu There are several types of expats in Thailand, the corporate employees in Bangkok and the already wealthy who come to live a life that's even grander then they could afford from wherever they came. They exist in a world of TV reality, sequestered in gated compounds of luxury villas, served by live in maids, chauffeured around the city to well covered events in Mercedes. In a country with a staggering rate of poverty they vacation at exclusive resorts on privately owned islands, these are the expats the government loves. Then there are the pensioned retirees; hordes of aged men from Europe, England, Australia and America come to live their days out measuring their retirements glass by glass of cheap beer. They are often married to Thai women from poor backgrounds and set up in their home villages elevating the entire extended family to a level of modest upper middle class.
Living in Thailand: Too much fun off the tourist track