Foto
Pastelogram :: Larry Baranovic :: September 2010
≈ The Cheese That Refreshes: 1958 From 1958 comes this point-of-sale lunch-counter card, the original measuring 17 by 12 inches with an easel-type flap on the back to prop it up. The design is a reductive masterwork of suggestive psychology, a representation of delicious food with a minimum of verbiage: CHEESEBURGER DRINK COCA-COLA. ≈ Larry Baranovic: Three Fine-Art Prints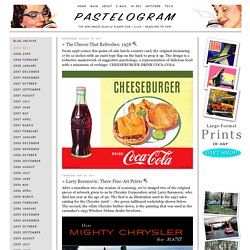 There are lots of tutorials on the Web that claim to achieve a realistic tattoo effect. Usually these tutorials instruct the user to import an image they want to use as a tattoo and to set it to overlay. Out of experience I can say that this does NOT look like a tattoo. It looks like…well…an overlayed image.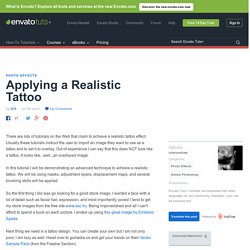 Applying a Realistic Tattoo
Gigapixel Photography - Image Gallery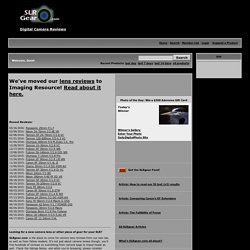 March 20, 2013 : Our lens review today is the Olympus 17mm f/1.8 m.Zuiko Digital . - Andrew Recent Reviews: March 4, 2013, Canon EF-M 18-55mm f/3.5-5.6 IS STM February 17, 2013, Canon EF-M 22mm f/2 STM February 3, 2013, Canon 24-70mm f/4L IS USM January 16, 2013, Sigma 35mm f/1.4 DG HSM "A" January 9, 2013, Nikon 70-200mm f/4G ED VR AF-S December 27, 2012, Olympus 60mm f/2.8 Macro December 17, 2012, Olympus 15mm f/8 December 4, 2012, Sigma 50-150mm f/2.8 EX DC OS HSM APO November 28, 2012, Canon 24-70mm f/2.8L II USM November 19, 2012, Rokinon 85mm f/1.4 Aspherical November 13, 2012, Rokinon 35mm f/1.4 UMC Aspherical November 6, 2012, Sigma 180mm f/2.8 EX DG OS HSM APO October 22, 2012, Pentax 18-135mm f/3.5-5.6 ED AL [IF] DC SMC DA WR October 8, 2012, Canon EF 500mm f/4 IS II USM Looking for a new camera lens or other piece of gear for your SLR? SLRgear.com is the place to come for camera lens reviews from our own lab, as well as from fellow readers.
fotografia, aparaty, galerie, porady, testy, zdjęcia, aparaty cyfrowe, aparat cyfrowy, cyfrowy, foto, aparat, Canon, Nikon, Olympus, Fuji, Minolta, Agfa, Kodak, Sony, test, galeria
The Golden Hour Calculator / Sunrise and Sunset information for photographers
Welcome to Photozone!
Digital Foto Video - Digital Foto Video