Email tips & tricks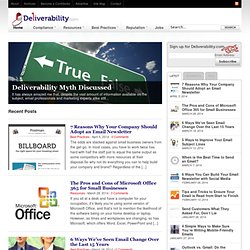 7 Reasons Why Your Company Should Adopt an Email Newsletter The odds are stacked against small business owners from the get-go. In most cases, you have to work twice has hard with half the staff just to equal the same output as some competitors with more resources at their disposal.So why not do everything you can to help build your company and brand? Regardless of the [...] The Pros and Cons of Microsoft Office 365 for Small Businesses If you sit at a desk and have a computer for your occupation, it's likely you're using some version of Microsoft Office, and that's not to mention the likelihood of the software being on your home desktop or laptop.
Deliverability.com
Email Subject Lines: 15 Rules to Write Them Right | Email Marketing - Lyris HQ Email Marketing and More
Understanding email open rates - Articles & Tips
19 September 2013 Added support for @font-face, @media and HTML 5 media tags in email clients, as well as email-relevant CSS properties. We re-tested all webmail clients and the latest versions of existing clients. 30 January 2013 Outlook.com no longer supports the margin CSS property, including margin-top, margin-right, margin-bottom and margin-left. Float support has also been dropped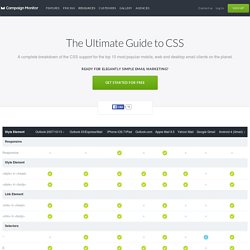 Tips for Tracking Email Marketing Campaigns
Email campaigns are a cost-effective way of attracting quality return visitors to your site. It's important that you tag your email campaigns with campaign tags so that you can track how well each email performs. This lets you optimize your efforts and track your return on investment. What are campaign tags? Campaign tags are additional information that you apply to links. Once a link is clicked, the tag information is passed to Google Analytics.