Email marketing
Reviews of Blue Sky Factory
Mobile Marketing, Mobile Advertising, Interactive Voice Response | SmartReply
Over 850,000 Users Worldwide! Sarah Burchard S&S Brand "I own a small business, have no marketing experience and a very small budget. VR allows me to reach out to customers through email for next to nothing. It's fast, easy to use and has great templates to choose from."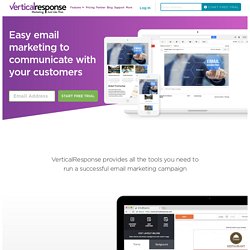 Study: Facebook Sharing Trumps Twitter, LinkedIn, E-mail - Advertising Age - DigitalNext
Blog - Litmus
With an increased focus on mobile audience, many email marketers are scrambling to find a strategy that works for them. Unfortunately, there's a lot of confusion about what mobile email design strategies actually exist. Don't worry, though—we're here to help clarify things. With over eight years experience as a web developer and a love for working with small teams, Kevin is the perfect addition to Litmus!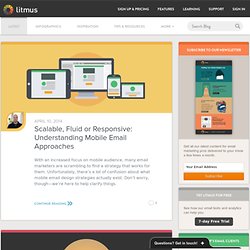 Jimmy Wales On Wikipedia, Brands, Why He Loves Coke, But Doesn't Talk About It Question: Wikipedia plays a significant role in generating awareness and providing information for many brands -- particularly media and entertainment brands -- and yet, at this point in time, there is very little brands can do ... Internet Ad Revenue Hits $42.8 Billion In 2013, Surpasses Broadcast TV For the first time, marketers spent more to advertise on the Internet than they did for broadcast television in 2013. Investments in U.S. interactive advertising reached $42.8 billion in Internet advertising last year -- up 17% ...
Publications Email Insider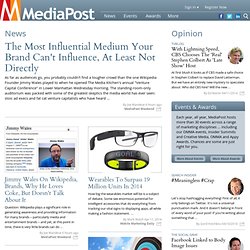 DMA:2010 Coverage Round-Up | The Big Fat Marketing Blog
Shoutlet is the leading global, enterprise-level social relationship platform. We help brands leverage social channels to drive highly engaged customer relationships that result in measurable business impact. Our innovation is unrivaled because social is all we do. And we believe it's time to fundamentally change the way you engage with your customers.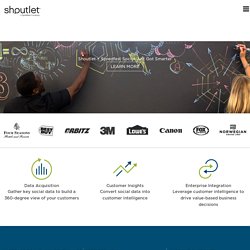 Exclusivity, Urgency, and Email
If your email subscriptions are anything like mine (as a fellow interactive marketer, I assume they might be), it seems like every other article that hits my inbox lately contains another new stat or case study regarding mobile. Whether we're talking about the mobile web, mobile apps, mobile email, or mobile sites, the "M-word" is everywhere. As more research regarding both the sales and usage of mobile devices -- specifically smartphones -- becomes available, many marketers are asking, "How should I be optimizing my email for mobile devices?"
How to optimize your email for mobile devices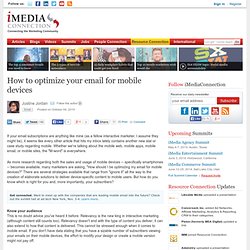 The Email Standards Project works with email client developers and the design community to improve web standards support and accessibility in email. Our goal is to help designers understand why web standards are so important for email, while working with email client developers to ensure that emails render consistently. This is a community effort to improve the email experience for both designers and readers alike. What you can do to support the Email Standards Project Whether it's spreading the word about our cause, helping out with additional research or telling us the secret handshake for the Gmail team, we'd love your help.
Email campaigns are a cost-effective way of attracting quality return visitors to your site. It's important that you tag your email campaigns with campaign tags so that you can track how well each email performs. This lets you optimize your efforts and track your return on investment. What are campaign tags? Campaign tags are additional information that you apply to links. Once a link is clicked, the tag information is passed to Google Analytics.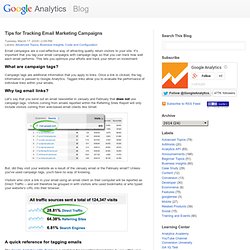 The Leading Authority on Email Marketing Metrics EmailStatCenter.com
I'm pretty sure that my email inbox is going to drive me to the funny farm. It's the only thing that I can never quite seem to get on top of. The other day, I received an email with the subject line, "Stress Management for Women." Maybe they know something about me that I don't, but I'm NOT a woman and I'm definitely NOT STRESSED!!! Ok, maybe just a little bit The point is, companies are turning to email marketing frequently because it's cheap and it's effective.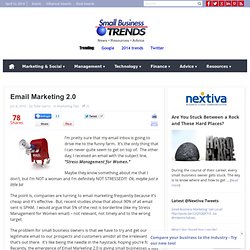 Advanced email marketing
The Retail Email Blog: AM Inbox: Time is running out...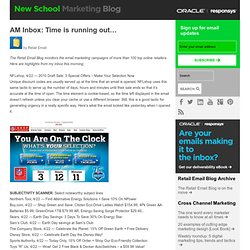 The Retail Email Blog monitors the email marketing campaigns of more than 100 top online retailers. Here are highlights from my inbox this morning: NFLshop, 4/22 — 2010 Draft Sale: 3 Special Offers – Make Your Selection NowUnique discount codes are usually served up at the time that an email is opened. NFLshop uses this same tactic to serve up the number of days, hours and minutes until their sale ends so that it's accurate at the time of open. The time element is cookie-based, so the time left displayed in the email doesn't refresh unless you clear your cache or use a different browser. Still, this is a good tactic for generating urgency in a really specific way.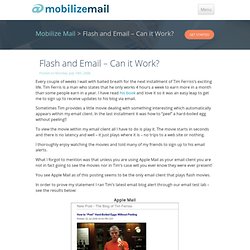 Mobilize Mail Opinion » Blog Archive » Flash and Email – Can it Work?
Every couple of weeks I wait with baited breath for the next installment of Tim Ferriss's exciting life. Tim Ferris is a man who states that he only works 4 hours a week to earn more in a month than some people earn in a year. I have read his book and love it so it was an easy leap to get me to sign up to receive updates to his blog via email.
Welcome to YouTube! The location filter shows you popular videos from the selected country or region on lists like Most Viewed and in search results.To change your location filter, please use the links in the footer at the bottom of the page. Click "OK" to accept this setting, or click "Cancel" to set your location filter to "Worldwide". The location filter shows you popular videos from the selected country or region on lists like Most Viewed and in search results. To change your country filter, please use the links in the footer at the bottom of the page. About Email Experience Council
EmailExperience's Channel