Advertising
I hold a dual role within Publicis Groupe, serving as both active Chief Strategy and Innovation Officer at VivaKi — a global leader in digital advertising solutions — and Chair for leading digital agencies DigitasLBi and Razorfish. At VivaKi, my team and I focus on incubating new ideas, approaches, partnerships and models for the next generation of data-driven marketing, storytelling, brand rethinking and the next two billion customers (China and India). In order to achieve these goals, I am responsible for Emerging Opportunities and Partnerships for VivaKi/Publicis Groupe.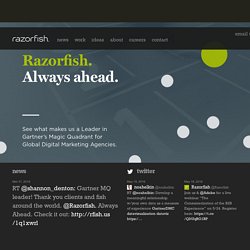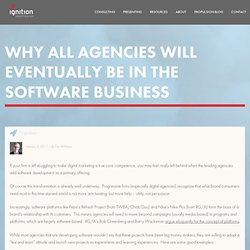 Propulsion January 3, 2011 | By Tim Williams If your firm is still struggling to make digital marketing a true core competence, you may feel really left behind when the leading agencies add software development as a primary offering. Of course this transformation is already well underway.
Why all agencies will eventually be in the software business » Propulsion Blog » Ignition Consulting Group™
Zatarain's | Facebook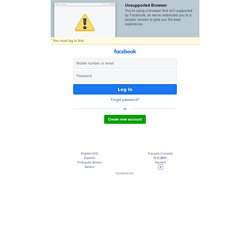 We need ya! Help us celebrate our 125th Anniversary by submitting photos of your family and friends enjoying Zatarain's, like this one from Instagram user @natalew08! We're lookin' for pictures of crawfish boils, family dinners, picnics or ...any dining occasion where y'all enjoyed some Zatarain's! Make sure y'all have permission to use submitted photos so we can share them with our community throughout the year!
Think discipline. by Todd Knutson Too often, creatively-driven firms forget the business discipline that's required to achieve financial success. A consultant recently reminded me of this. He's the product of the financial and management discipline learned at Fortune 500 companies, and now helps smaller companies, including a few ad agencies, implement management systems designed to increase accountability and profitability.
Ad Agency CEO Skill: The Right Way to Manage Your Business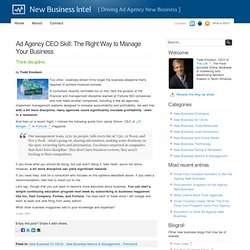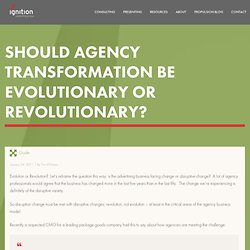 Should Agency Transformation Be Evolutionary or Revolutionary? » Guides » Cognition » Ignition Consulting Group™
Guide January 24, 2011 | By Tim Williams Evolution or Revolution? Let's reframe the question this way: is the advertising business facing change or disruptive change? A lot of agency professionals would agree that the business has changed more in the last five years than in the last fifty.
P&G's popular campaign kicks off new ad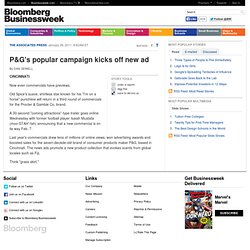 By DAN SEWELL Now even commercials have previews. Old Spice's suave, shirtless star known for his "I'm on a horse" punchline will return in a third round of commercials for the Procter & Gamble Co. brand.