Art Teacher Blogs
Organized Chaos
I just got back from a Arts Integration Seminar/Conference thing. The day was helpful, but perhaps not in the way the presenters expected or hoped for. I left the conference today with a love-hate relationship of arts integration and a further understanding and passion for arts infusion (which my home teaching building is based on). Today was all about arts integration - how to integrate core subjects into art.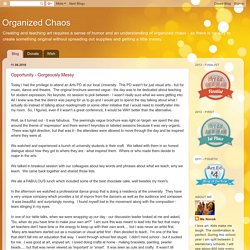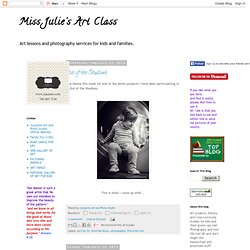 Kids Art Projects and Lessons at Ms. Julie's Place
I am a teacher at heart. I love teaching! I also learn a lot more when I am teaching. All the preparation is part of it of course, but I also tend to learn a ton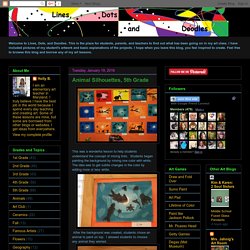 Lines, Dots, and Doodles
I have done this lesson many times, with many different grades, and every year it turns out wonderful. This project is based on the artwork of Karla Gerard. Her artwork is colorful and fun, and my students seem to generate a lot of good ideas from looking at her art. For this project, I had my students use a black crayon to draw hills, trees, suns, wind, etc. Then students used pastels to add patterns to the hills.
Art with Mrs. G! - Roosevelt blog
I was in Texas at the National Art Education Association Convention! That's a great big event where about 5000 art teachers attend workshops and presentations to help them continuously improve themselves and their teaching. Teachers and leaders in the Art Education field share ideas, lessons, art materials, and most importantly - their creative passion to teach the love of Art to all their students. I attended many sessions where I learned some new things, was reminded of things I've forgotten, and was generally inspired. One of the best parts of going to this National Conference was the chance to meet in person people who help me be a better teacher every day.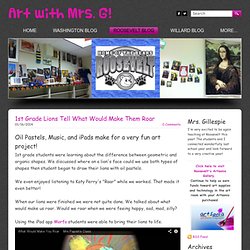 BlueMoon Palette
Paintedpaper
These fabulous paintings on watercolor paper were created by 4th grade art club members. Going along with our Nature Studies and Georgia O'Keeffe we created these in 40 minutes, all before school started at 8:30a.m. We first talked about layering. I told them I saw a painting that I loved and thought we could create our own forest in a different way. Step 1 Students used tempera paint and painted the tops of trees.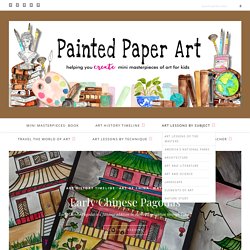 Here is another angel project. The unique thing about these angels is that a bottle, (recycled water bottle, pop bottle) forms the base. You can make small or large ones depending on what's in your recycle bin. MATERIALS REQUIRED:- plastic bottles, (water or pop), rinsed out and dried- paper, I'm using kraft paper but you can use wrapping paper, newspaper, whatever you have on hand- paint and markers- thin cardboard (cereal box)- string or cording- glue and tape- styrofoam ball for the head, you could also papier mach over foil ball or rolled newspaper ball- garland or ribbon for hairPROCEDURE: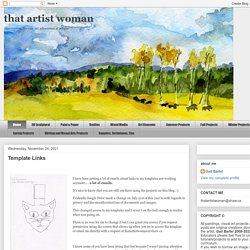 My students will begin their 2014 Journals by dedicating one page to each Element of Art. Why do they need to know these elements, you might ask? It will help them develop their vocabulary and thought process so instead of saying, "That painting is pretty" students might say (and think) "That painting is pretty because the trees have so much form and the colors look so bright together".
I posted about the song SELFIE, by The Chainsmokers previously... I thought it would bring me to a lesson... and sure enough, it did! I combined this lesson with another activity I have been wanting to try now for a while... ZONKEY's.
Mini Matisse
I haven't meant to be m.i.a. from blogging for several weeks. We put our computer in the shop 3 weeks ago and have yet to the get green light that it has been repaired. Enter my two wonderful brothers, who generously purchased a laptop for an early birthday gift. Thanks Dave and Scott! The day before Halloween I had my new group of K-4th graders create these Egyptian Slit-Faced Bats using charcoal. The backgrounds were created with oil pastel moons, watercolor skies and acrylic branches.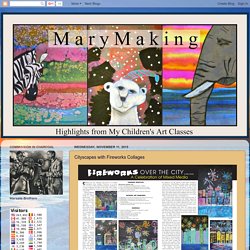 MaryMaking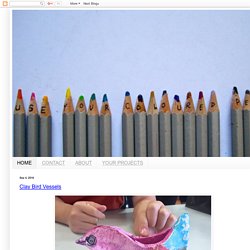 Use Your Coloured Pencils
My students started learning Japanese language at school last year, so I thought I would do some Japanese themed art work from time to time in the Art Room. This was a special lesson for me as it also resulted in one of my favourite pieces of student art work all year. The drawing above is so amazing and created by one of my fantastic grade two students. Yes, he is 7 years old and his drawing shows his amazing knowledge of form, movement and tone. I was so proud! I went through some basic steps for drawing a Koi and then students used photographs of swimming Koi as a reference to draw either one large or two small swimming fish.
The Top 20 Teacher Blogs The Teaching Palette was thrilled to learn it had been named one of Scholastic Instructor Magazine's Top 20 Teacher Blogs. Read more. As Seen in School Arts and NAEA News
Art Makes Kids Smart
This is a project that we did a few years ago based on an exercise in Mona Brookes' book, Drawing With Children. The exercise was similar to this art project. I found this similar idea in a google search just now. Interesting how different people can come up with identical ideas. The exact inspiration for me likely came from several sources. The directions are simple.
fugleflicks - Fugleflick_Index