Art Teacher Blogs
Organized Chaos. Kids Art Projects and Lessons at Ms. Julie's Place. Lines, Dots, and Doodles. Art with Mrs. G! - Roosevelt blog. I was in Texas at the National Art Education Association Convention!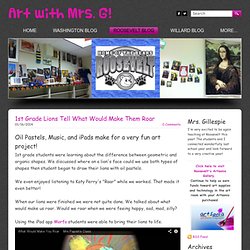 That's a great big event where about 5000 art teachers attend workshops and presentations to help them continuously improve themselves and their teaching. Teachers and leaders in the Art Education field share ideas, lessons, art materials, and most importantly - their creative passion to teach the love of Art to all their students. I attended many sessions where I learned some new things, was reminded of things I've forgotten, and was generally inspired. One of the best parts of going to this National Conference was the chance to meet in person people who help me be a better teacher every day. BlueMoon Palette. Paintedpaper. That artist woman. Art Projects for Kids. Mini Matisse. MaryMaking. Use Your Coloured Pencils. The Teaching Palette | Perfecting the Art of Education.
Art Makes Kids Smart. Fugleflicks - Fugleflick_Index. Deep Space Sparkle.
---