Smart Home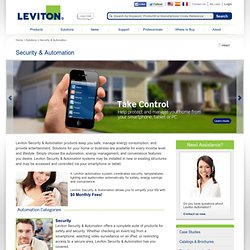 Home Automation, Inc (HAI)
Since 1985, Home Automation, Inc. (HAI) has been the leading manufacturer of home control products for homeowners and businesses around the world. HAI products keep you safe, manage energy consumption, and provide home entertainment in a coordinated and easy to use manner. HAI products are Automation Simplified®. Solutions are available for every income level and lifestyle.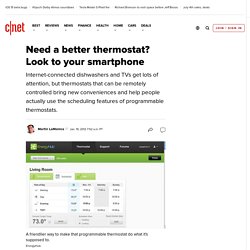 Need a better thermostat? Look to your smart phone | Cutting Edge
A friendlier way to make that programmable thermostat do what it's supposed to. (Credit: EnergyHub) For many, the ballyhooed smart home of connected devices will start with the lowly thermostat. Startup EnergyHub today is releasing data from a study of customers who bought a Wi-Fi enabled thermostats tied to EnergyHub's Web service . It found that letting consumers operate the thermostat from a familiar PC or smartphone application, rather than on the thermostat itself, makes a dramatic difference in how often the programmable features are used. An Internet-connected thermostat also allows people to remotely control home heating and cooling.
Home Automation! What You Need to Know to Not Be Dumb
Home Automation - The most complete guide to home automation information on the web