Smart Home
Ecobee | Save money and energy without compromising your lifestyle. Home Automation Systems Store. Home Automation, Inc (HAI) Leviton Security & Automation products keep you safe, manage energy consumption, and provide entertainment.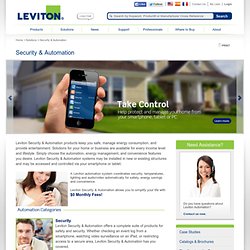 Solutions for your home or business are available for every income level and lifestyle. Simply choose the automation, energy management, and convenience features you desire. Leviton Security & Automation systems may be installed in new or existing structures and may be accessed and controlled via your smartphone or tablet. A Leviton automation system coordinates security, temperatures, lighting and audio/video automatically for safety, energy savings and convenience.
Nest | The Learning Thermostat | Home. Bath. Automation. Home Automation, X10, Remote Control, Lighting, Wireless Security. Need a better thermostat? Look to your smart phone | Cutting Edge.
For many, the ballyhooed smart home of connected devices will start with the lowly thermostat.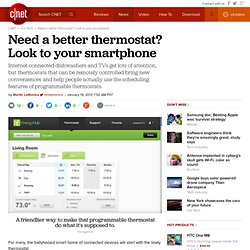 Startup EnergyHub today is releasing data from a study of customers who bought a Wi-Fi enabled thermostats tied to EnergyHub's Web service . It found that letting consumers operate the thermostat from a familiar PC or smartphone application, rather than on the thermostat itself, makes a dramatic difference in how often the programmable features are used. An Internet-connected thermostat also allows people to remotely control home heating and cooling. Home Automation! What You Need to Know to Not Be Dumb. Home Automation - The most complete guide to home automation information on the web.
---